The machine comes with an 1100 liter bin tipper and an enclosed charge-box. The lid opens as the bin tipper raises and closes as it returns to prevent easy-access. We can add a locking option to prevent unauthorized access for unsecured sites or locations at risk of fly-tipping.
The oscillating steel scrapers and maintenance-free, fully guided press head reduce wear problems, waste build-up and cleaning, therefore reducing labor breakdowns and repair costs.
As standard, all L & N model portable compactors have 34-tonne compaction force, a very quiet running hydraulic pump, high-quality steel compaction chamber floor, surface lacquered finish (including corrosion Protection Class C 3), continuously welded seams (which prevent corrosion) and are CE and GS-approved. This particular refurbished model has a side hung door, with 3 clamps and seal to provide additional capability and prevent leaks.
Cycle time: 55 seconds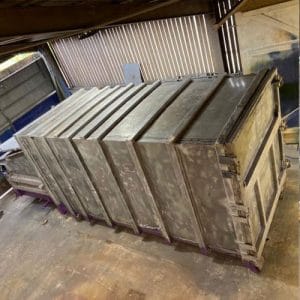 Front hook- Very quiet running hydraulic pump generating < 63 dB(A)
Timer for regulating the operating time of the compactor
Oil level and temperature control
Pressure control gauge with stopcock
Oscillating steel scrapers below the ram
Rollers equipped with greasable bronze bushings
Compaction chamber floor made of high-quality steel S 355
Ratchet locking mechanism on the discharge door
Surface lacquered in corrosion Protection Class C 3
Consider this option if:
You currently have 7 or more 1100 liter waste bins emptied per week
1 or more FEL/RELs emptied per week
Have waste that is wet in nature, or can have an offensive odor
Want to streamline your operation, reduce manual handling of waste & free up man-hours
Reduce your impact on the environment by disposing of your waste by the most efficient means by significantly reducing the number of waste collections on site
Want a simple and straight forward solution for your waste
Require a fully maintained compactor
Have had issues with unexpected costs as a result of third party hauliers damaging your compaction equipment on the collection and thus would like indemnity for the collection process
Already have a portable sealed compactor in place but require a streamlined maintenance arrangement, with engineer devices interlinked with helpdesk to provide effective asset management. Servicing & maintenance ticket history, a full breakdown of works, photos and videos accessible when required.
You would benefit from significantly reducing your costs, improving your environmental sustainability