Rotar ROQ Fully Integrated Hydraulic Adapter is OilQuick CLEAN SYSTEM Ready!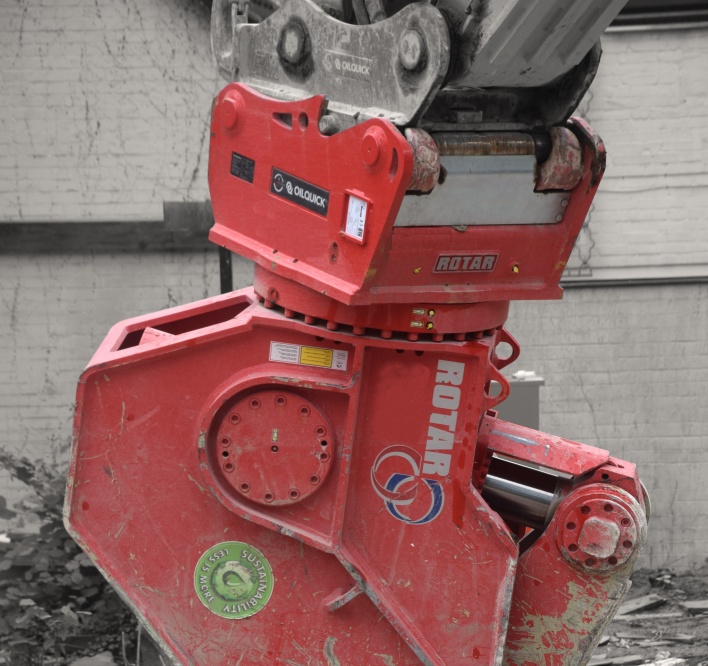 Rotar International B.V., manufacturer of premium hydraulic attachments for the demolition, recycling and scrap metal industry, introduces its newly developed fully integrated ROQ quick coupler adapter.
The Rotar team aims to produce the strongest attachments and attachments with the best possible adaptation to the users' carriers.
Rotar now offers its attachments as standard and factory fitted with fully integrated hydraulic ROQ adapters build with original OilQuick parts.
As an "OilQuick CLEAN SYSTEM Partner", Rotar has placed great emphasis on compatibility with original OilQuick couplers and the associated Clean System Partner suitability.
The original OilQuick components also ensure that the user receives the latest development stage from OilQuick, thus full compatibility and the highest possible operational safety. Especially in connection with the essential safety systems such as the OilQuick locking control and the OilQuick drop protection.
The Rotar ROQ adapter has been fully integrated into the attachment design by Rotar engineers with the support of OilQuick Germany. The hydraulic connections and hoses are included in the design. The rotator-head section of these attachments has been completely redesigned and optimized for the integration of the adapter. This means that the adapter can be placed directly on the slewing ring without requiring further assembly. The top plate with the screw-on threads is completely omitted.
This very compact combination of attachment and adapter offers considerable advantages for the user. Depending on the size of the attachment, it can be up to 200 mm shorter and 200 kg lighter. This makes a considerable difference due to the more favorable center of gravity of the attachment. This benefit is especially noticeable at high-reach applications, as this design is lighter and closer to the excavator arm's suspension point than conventional adapters.
Rotar dealers and customers can order the attachments complete and ready for use from the factory. Additional work and time to bolt on the adapter plate and install the hose connections are eliminated, saving time and service costs.
Due to the fully integrated hydraulic hoses, damage to them during hard demolition work is almost impossible. This increases operational safety and thus reduces operating costs and saves downtime on job sites as well.
Due to the full integration of the adapter, a service inspection cover is implemented. This allows easy access to all hydraulic components in the upper head section of the attachment, should this be necessary for service or inspection. Time-consuming unscrewing of the adapter is no longer required.
In addition, all attachment parts used, such as hoses and screw connections and the original OilQuick hydraulic couplings, are standardized and documented in the spare parts manuals. This makes it very easy and quick to identify a component and replace it if necessary.
All these measures aim to reduce maintenance- and operating costs, increase ease of maintenance, and guarantee maximum safety.
The Rotar ROQ fully integrated hydraulic adapters are currently available as ROQ 60 / ROQ 70 / ROQ 70-55 / ROQ 80 and o ROQ 90 for the Rotar series RCC two-cylinder concrete cutter, RDC demolition combi-shear, RDP demolition pulverized, and RG demolition and sorting grab as well as for RSS mobile scrap shear.
Rotar also offers original fully integrated adapters for Steelwrist and Lehnhoff Variolock full hydraulic quick couplers. Other sizes and models are available on request.
This article is published by
At Rotar we believe that people and machines can operate more efficiently. From this philosophy, we develop state-of-the-art equipment for hydraulic excavators and wheeled loaders. Our main objective? To make products that guarantee operational continuity, minimal operational costs and optimal availability. We go about this in our own unique way. ...