Traditionally, recyclers have shredded bottles and various plastic products, followed by granulating them to a size suitable to mix with virgin plastic pellets for use by manufacturers. However, the cumbersome process of shredding, screening, and grinding the plastic to size with different equipment in separate processes has not only been inefficient but also a bottleneck to processing.
Now, for the recyclers of a wide range of plastic products such as car bumpers, barrels, bottles, garbage cans, gas cans, paint cans, as well as film and wrap, industry innovation has developed a much more efficient alternative: a shredder knife technology that can cut, screen, and size in a single pass with one machine on-site.
Because the sizing of reduced plastic scrap can be specified, uniform, and even tailored to suit the manufacturing process, more material can be successfully processed by recyclers
with less labor, boosting profits. Shipping costs are also reduced for scrap transported off-site to buyers since any voids (i.e.- empty spaces) within the container are minimized.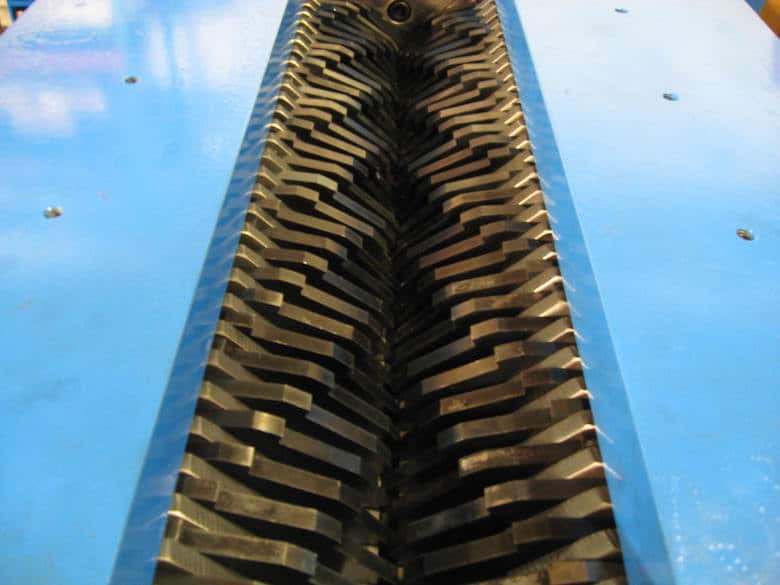 In addition to plastics, the knife system design effectively shreds and sizes a wide variety of materials including rubber, paper, cardboard, wood, fabric, copper wire, aluminum, fiberglass, and even garbage, and batteries.
Since the knife technology simultaneously does the work of both a typical shredder and granulator, it is also more energy-efficient and takes less space on the production floor. The technology is flexible enough to be incorporated into the smallest to largest recycling, shearing, and grinding equipment.
Conventional Equipment Limitations
For decades in recycling, the reduction of large plastic scrap or unusable product has usually involved shearing equipment such as dual or quad shaft shredders. To further decrease the size, this is typically followed by the use of grinding machinery such as granulators, stone mills, tub grinders, or chippers.
Screeners are often used at various points, which decreases processing speed. Standard dual shaft shredders, for example, typically turn shredder material into strips and require the use of a re-screening device to reduce plastic material to a specific size.
As a result, conventional shredders like these are usually used in conjunction with granulators to achieve a specific size reduction. A single shaft granulator is a simple device consisting of a knife (or multiple knives) attached to a shaft that mates with a stationary bed knife. Material is randomly chopped and continues to be cut until small enough to fit through a sizing screen at the bottom of the machine.
Usually, the way the material is fed into the system in terms of speed, timing, etc., results in about 40 to 50 percent incorrectly sized material.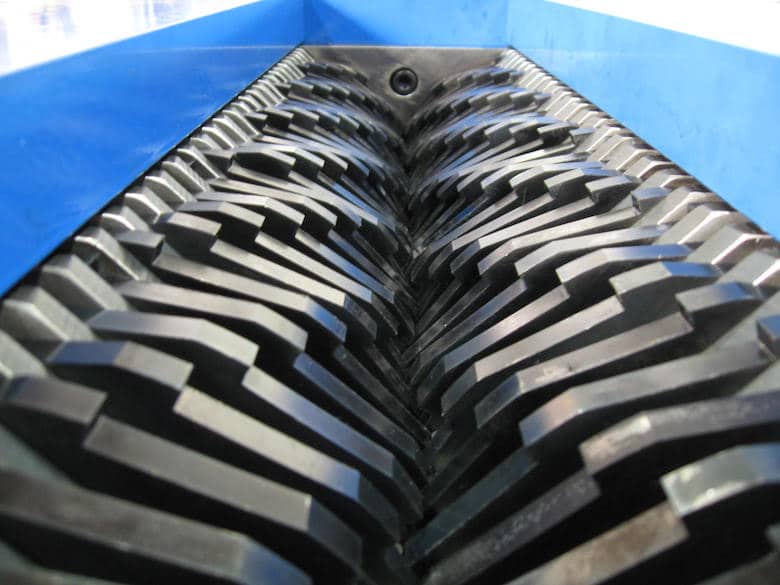 However, by incorporating the patented Triplus knife system technology, a standard shredder is changed into a hybrid between a dual shaft rotary shear shredder and a single shaft granulator. The approach uses the precision grabbing action of the high torque, dual shaft shredder to cut the width of the material, while the bed knife design of the shredder sizes the length. This is accomplished in one operation, which produces accurately sized material in one pass without a screen. The end-product size is based on the size and geometry of the knives.
Unlike traditional equipment, the knife system is capable of shredding, chipping, and sizing any kind or size of plastics in a single pass without using a screen. A shredder utilizing this design can produce over 85% correctly sized material in one pass with less than 10% oversized material.
With the knife system, a recycling operator just specifies the chip size needed, and it produces chips in that size. The design works with wet or difficult to screen materials, and clean cuts those that create fines and dust.