It's the company's contribution to safeguarding limited global resources. The key skill comes in separating the waste, whatever the waste stream. With more than 57 years of experience, Bollegraaf is one of the most skilled providers of turnkey solutions.
Durability is the keyword at Bollegraaf. The machines are finished with water-based paint and are designed to have the lowest achievable energy consumption, the longest possible life cycle, and the highest residual value in the market. The HBC50 baler currently in service at Triselec in Dunkerque is living proof.
40-years-old, and still going strong
Forty years ago, in 1980, the HBC50 left the Bollegraaf factory in Appingedam to start its career in the card, paper, plastics and aluminum baling. It was sold to its first owner, Gero Genemuiden. Gero uses the baler for over 19 years. In 1999, following a retrofit, the HBC50 was sold to Triselec Dunkerque. They have been using it ever since.
Triselec: taking care of the world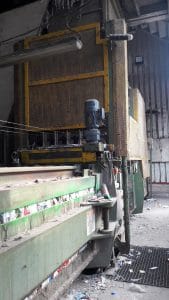 In 1989, the Urban Community of Dunkerque became innovators in France with the creation of the first large-scale selective collection and a truly industrial sorting center. Situated in Petite-Synthe in Dunkerque, France's first waste-sorting site enables Triselec to concentrate on its core business: the manual and mechanical processing of recyclable household waste. With a concern for people, nature and the environment, the Dunkerque sorting center handles approximately 20,000 tons of waste per annum out of an authorized capacity of 30,000 tons per annum," underlines Serge Roulez, head of Research and Development. "Together, Bollegraaf's HBC50 and Triselec are working to achieve Triselec's guiding principle: to support the circular economy."
Triselec works with individuals looking to find their way back into the workplace. The organization gives these individuals the opportunity to reintegrate by first offering them a job as a sorting operator, then teaching them a new profession by means of vocational and skills training, before finally helping them to find employment elsewhere. On the company's walls are pictures of people proudly talking about their new role across all sorts of professions, thanks to Triselec.
The HBC50
People's interest in the work is also reflected in the concern they have for the equipment. Roulez says: "The HBS50 is easy to maintain and operate. It's a reliable piece of equipment! On average, the baler operates six days a week, every week of the year. The machine produces approximately 80 bales per day and has already created 1,000,000 bales since leaving the factory. The combination of professional preventive maintenance, a high-quality product, and skilled operators results in a baler that's up to the task (almost) every day."