. The day started at Rotochopper with a facility tour, which was followed by visits to a steel mill and a job site. "The visits today will provide students an opportunity to see firsthand the full process of steel; from creation to fabrication to final product", shared Bill Pattison, Director of Business Development at West Central Steel, Inc.
During their 8-day rotation at West Central Steel, Inc. and CMF, Inc., students are introduced to businesses and opportunities that are available in the fields of drafting, machine operating, layout/welding, painting, and material handling.
The program began in 2018 after several Willmar businesses saw a need for a program that would give students the opportunity to experience manufacturing professions hands-on and help students understand the opportunities that are available to them in the community. Mike Kroeker, Willmar Senior High MAP instructor, said, "The purpose of the program is to inform students of opportunities in these fields, introduce the business leaders to the potential employers, and help fill the void of skilled workers."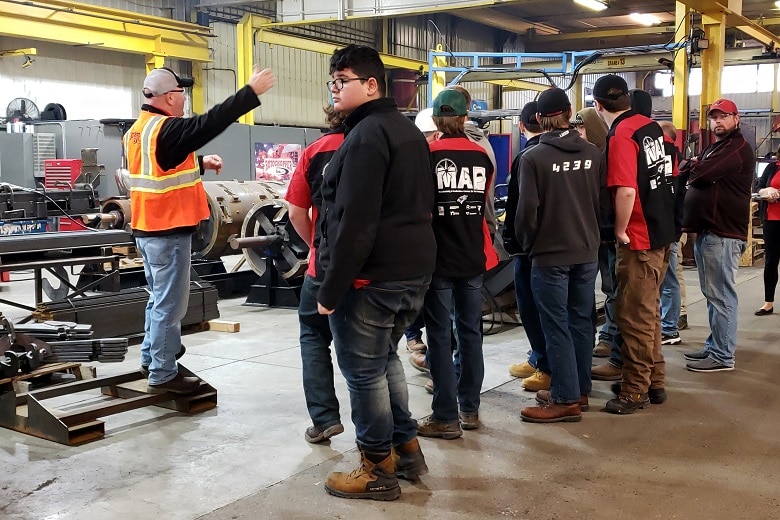 Patrick Burg, Director of Quality Assurance & Outside Processing at Rotochopper, led the group on a tour of Rotochopper's manufacturing facility. Dylan Larson, a student in the program who is interested in the drafting and design field, commented, "I was impressed seeing how big the operation was at Rotochopper, and it was interesting to see all the different welds on the various pieces through the tour".
Following the tour, Pattison shared, "Our goal with the program this year is to continue to build on what was started and developed last year. We want to expand the opportunities the program offers to the students and community while providing a greater impact on both. Continuing to focus on developing more hands-on learning for the students provides additional interest in the program and supports greater connections to the process."
During the manufacturing month, we'd like to join the chorus of manufacturers around the world encouraging young people to consider the great careers available to them in manufacturing. If you know of a student group that would like a tour, contact our Director of Community Relations.