The recycling company mainly disposes of and recovers waste and secondary raw materials. They have recently bought a complete waste wood processing plant from the Doppstadt group – including the robust Ceron Type 306 pre-shredder.
The task specification was clear at the beginning of the co-operation: the aim was to reduce at least 30 metric tons of waste wood to a defined grain size while removing non-ferrous and ferrous metals within the permitted levels of dust and noise emissions. It was of particular importance to the waste management company from Rendsburg that all system components were matched in terms of conceptual design. Doppstadt area sales manager Volker Prinz, project developer Robert Mücklich and project manager Jörg Siekmeyer were pleased to meet this challenge. Thanks to their long-standing expertise, the commissioning of the whole plant could take place at the end of March.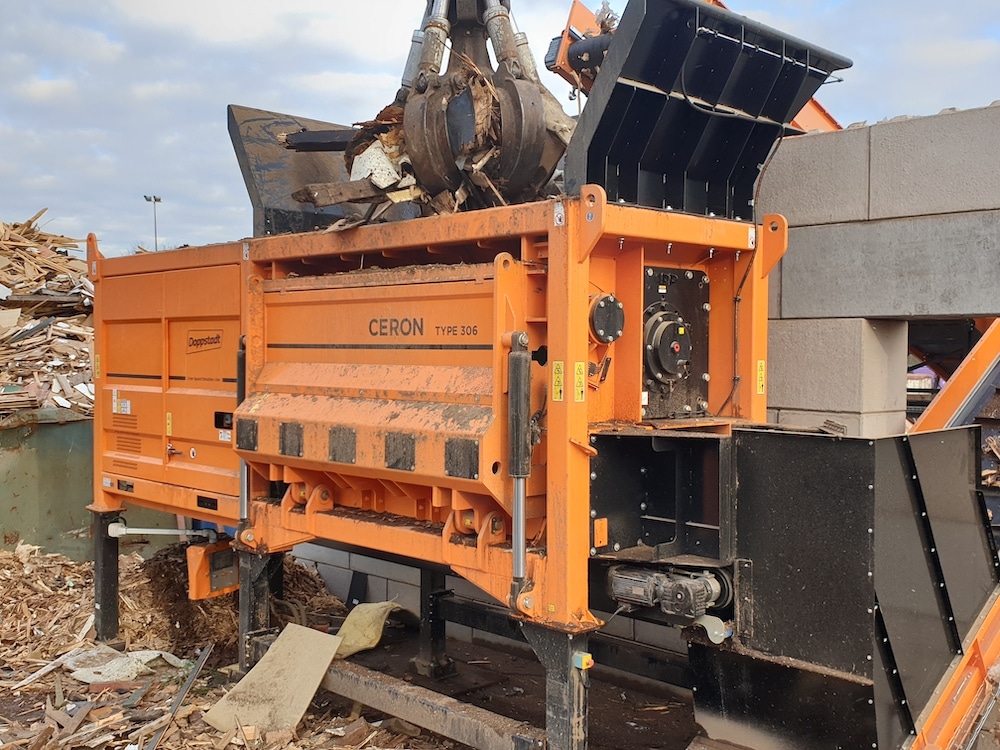 Efficient Shredding
The "opener" of the complete solution system is the Ceron Type 306 pre-shredder. Thanks to its high throughput, it is ideally suited for the shredding of the customer's input material. The waste wood with a bulk density of approx. 250 kg/m³ is fed to the pre-shredder with an M-tooth shredding system by means of an excavator with grab attachment. The material passing through the shredding comb is screened in the next process step to a grain size of approx. 0 to 100 mm via a Splitter Unit 425. The oversize (100+) is transported back to the pre-shredder via two conveyors. An over belt magnet mounted at a right angle to the running direction above the return conveyor separates ferrous metals from the oversize return belt in order to protect the shredder and extend its service life. A collecting and feeding conveyor with over belt magnet transports the fines (0 to 100 mm) to the NF separation. After that, a disc spreader distributes the material on the belt. The NF metal is discharged into a box, while the end product is piled up. On the customer's request, a mobile screening deck in the discharge area is used for the separation of further fractions. A water spray system was installed by the customer to prevent dust formation during the shredding of waste wood.
Perfect Results
Thanks to the optimum interaction of all the components, the Doppstadt plant met all of F. Ehrich GmbH's requirements as to the waste wood shredding. The recycling company was especially impressed by our adherence to delivery dates throughout the entire project and by the high efficiency of the whole system. Their conclusion in summary: "Our expectations were exceeded: We are now able to handle the whole amount of wood in one single shift".