The smallest machine in the ARJES product range has now travelled to many places in Finland as a demonstration machine and the experience from the first warm-up is promising, says Kivisampo. Thanks to two slowly rotating tool shafts, the two-axle compact crusher with track system crushes a wide range of materials without jamming and with a decent impact force for its size.
Initial test runs have successfully crushed concrete, waste wood, roots, plastics, commercial and industrial waste, construction and demolition waste and even roofing felt, among other materials. Thanks to a base weight of 14 tonnes, the machine can be easily transported, for example by truck with hook lift. On the construction site, the machine is quickly ready for use and moves easily and maneuverable from one place to another, says Kivisampo.
"We quickly decided to add the ARJES IMPAKTOR 250 evo to our product range because there is a clear mandate for a small crusher. Many recyclers need to crush several materials, but the volumes may not be large enough. Nevertheless, every challenge must be addressed and this works very well with the compact IMPAKTOR 250 evo. After the start of the demo tour, operators seem to have a great demand for a small and versatile machine that can shred numerous waste products," says Petri Ihainen from Kivisampo Oy.
The IMPAKTOR 250 evo can be equipped with two different types of shredding shafts. One pair of shafts is for crushing concrete and asphalt. The other is for waste such as waste wood, roots, mixed construction waste and other types of waste.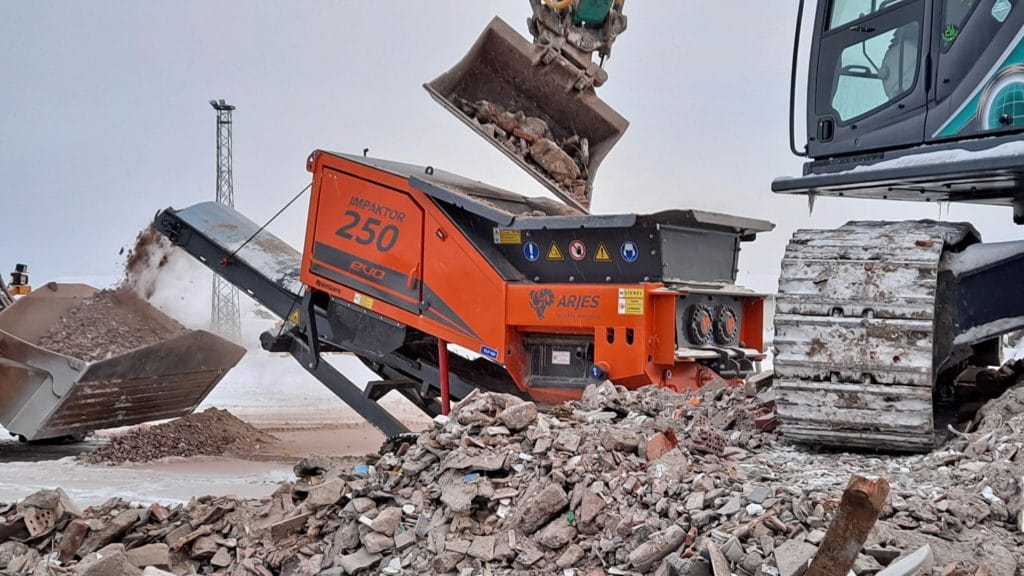 For a wide range of materials
The shafts, which are 1,500 mm long and 680 mm in diameter, are attached to a quick-change cassette and can be changed quickly if the material to be shredded changes. Below the shafts are a crushing bar and two counterrakes on both sides. When crushing concrete and asphalt, the counter-screens are kept closed so that the grain size of the end product is 0 – 60 mm. If the material to be crushed changes, the counter-screens should be opened, resulting in a larger proportion of the end product. For example, tough roofing felt or wood waste is discharged in pieces of 0 – 250 mm size.
"The compact ARJES shredder is best suited where a variety of materials need to be processed, but in manageable quantities," Petri Ihainen continues.
In the first test run, the capacity for concrete was 65-70 tons per hour. The piece size of the input was between 0 – 700 millimeters. Compared to impact and jaw crushers, there were no material blockages and interruptions in operation, according to Ihainen. All the iron in the concrete was broken into pieces of about 100 – 350 millimeters
and separated by a magnet. The machine also has a water spray system as standard to reduce dust in the hopper
as well as on the discharge conveyor. There are three predefined programs for adjusting the shaft rotation. The pressure switches notice changes in the resistance of the shafts and thus adjust the direction of rotation. "Thanks to this system, there is no clogging. The shafts each rotate at different speeds and in opposite directions to prevent clogging," Ihainen adds.