Equipment developed for Industry 4.0
CMG's solutions include granulators, shredders, integrated conveyor belts, regrind evacuation and conveying systems, dedusting, dust management and air filtration. CMG's installed base is considerable: over 30,000 units supplied to its customers in the company's 42 years of activity.
Biodegradable plastics
Biodegradable plastics are special polymers designed to biodegrade after use. Also, biodegradable plastics have physical characteristics that are very unique and do not match those of conventional polymers. The processing of biodegradable plastics is also unique, as they are very susceptible to heat and mechanical stress. The availability of technologies to handle the so called post-industrial scrap or rejects is scarce to inexistent.
The new Bio-Gran technology by CMG
Conventional granulation equipment cannot handle biodegradable production rejects adequately. As a consequence, those are not reintroduced in the production process and are given away for random recycling attempts.
The new Bio-Gran technology by CMG Granulators was designed to accomplish the objective of allowing recycling and reintroduction of the production rejects at the production site, by performing adequate size reduction and consequential storage/handling/processing so not to compromise the integrity of the polymer. The reject rate, predominantly deriving by post production finishing phases of the product, can be of a few percentage points up to tens of percentage points. The Bio-Gran technology was designed to handle from small to large quantities of biodegradable polymer effectively and dependably, preserving all physical and mechanical characteristics of the polymer itself.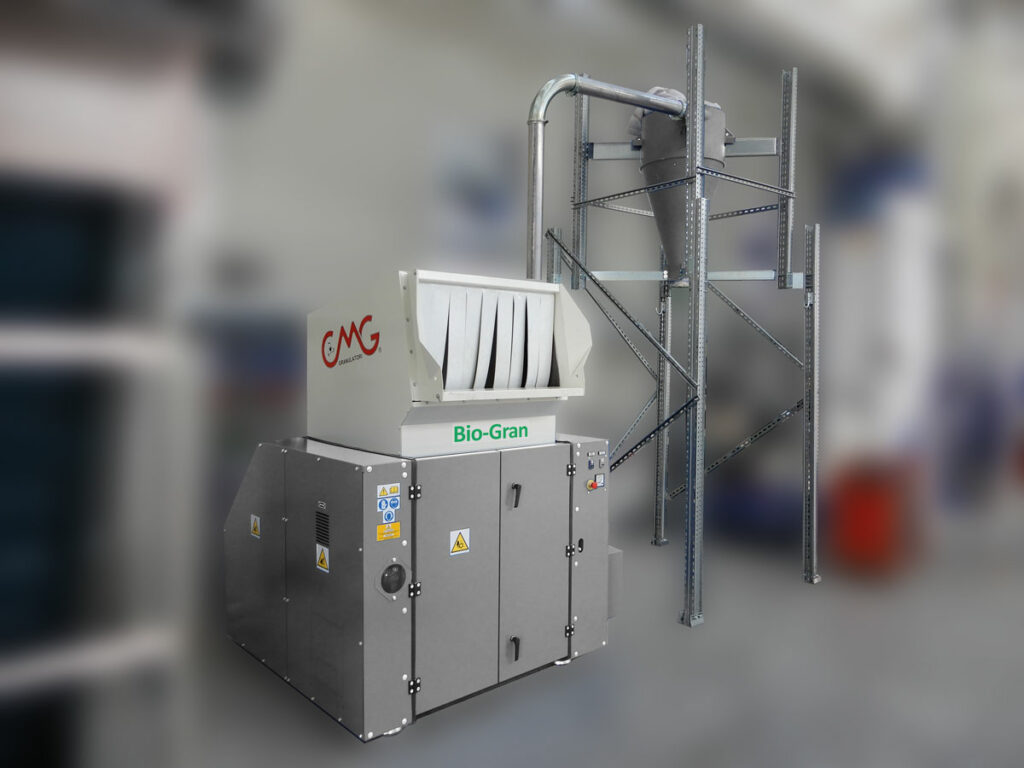 A new innovative technology now available
The first Bio-Gran units are today in operation at industrial sites producing biodegradable plastic products and one test unit is available at the CMG Tech Center in Bologna, Italy. The range of capacities of the Bio-Gran line spans form 200 kg/h all the way to 2.000 kg/h.
Bio-Gran is a new patent pending technology and a 100% proprietary development of CMG Granulators.
Service 4.0: With Headquarters, Production Site, and Technical Center in Italy, and the largest distribution network in the plastics industry, CMG is active all over the world with localized technical service, spare parts, and sales centers.