From its base in Coalisland, Northern Ireland, Screencore, although a relatively new entrant into the global crushing and screening market, has at its heart a management team with over 100 years of experience in the industry. This has enabled the company to in a relatively short time period develop a range of mobile – and now stationary – crushing, screening, stockpiling and pugmill solutions.
All members of the range have been designed for users who require a powerful and transportable unit without sacrificing productivity. "Our focus on quality and performance means that our customers can rely on our units getting the job done, no matter where they are located, and virtually whatever the applications. Our commitment to the end user is that we manufacture to the highest standard and then aim to set new standards with our industry-leading spec," says company director Ciarán Ryan.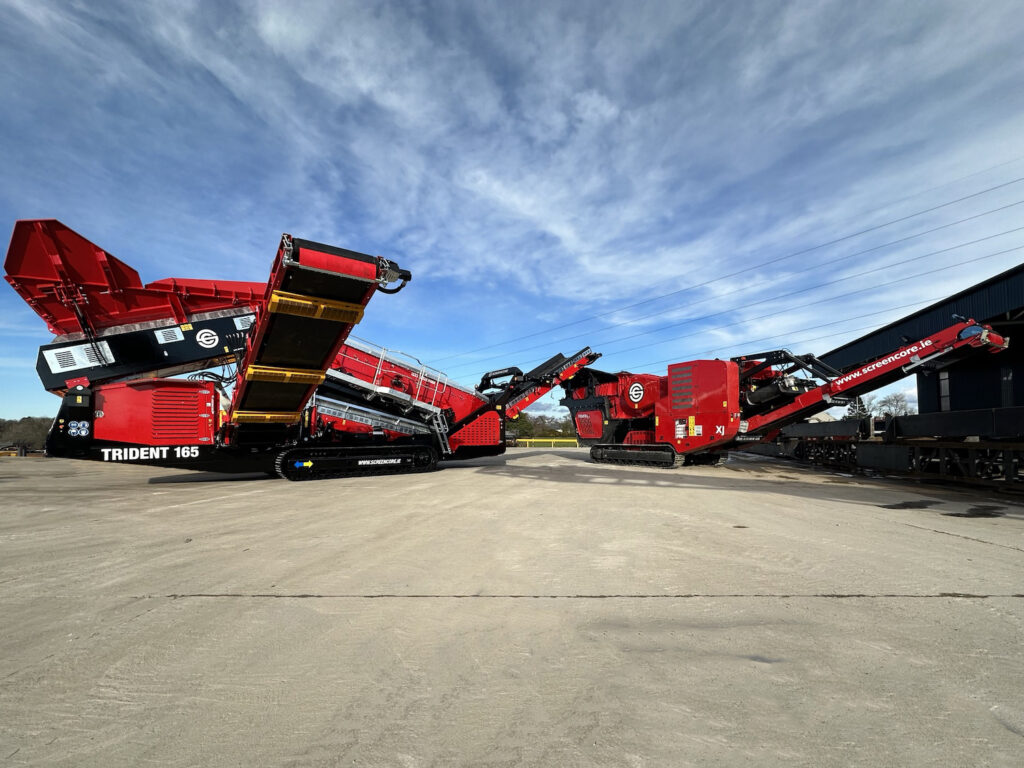 Designed for maximum productivity
"While our product line has expanded to encompass the formidable 237 trommel and the 30 ton Trident 165 scalper, our fundamental concept remains consistent: simplicity of use. This is evident in features like hassle free transport, swift set-up time, intuitive control systems, and distinctive design elements such as full sized bottom decks on scalpers or augers within the trommel hoppers. From these features, it's clear that our customers are at the heart of our design process," added Ciarán.
The Screencore range consists of a selection of tracked and highly mobile scalping screens, trommels and compact, yet productive jaw crushers. To this, the Screencore Boxer pugmill for precision mixing, blending and dosing has now been added. "The Screencore product range has developed in order to meet customer needs. We have set out to build to the highest standards equipment that people in the field need to be more profitable, efficient and effective in what they do. We have also incorporated environmental concerns into every step of our processes in order to not only efficiently process materials, but also minimise our footprint," stated Ciarán.
Global distribution network
As part of its on-going development strategy, Screencore has called on its many years of management expertise to put together a global distributor network that is unrivalled for a company of its size and longevity. "We now have an excellent team of established screening and crushing professionals located throughout the world. The team has been able to channel customer feedback directly to the design and manufacturing process to ensure that we keep abreast of real customer requirements.
"Although the dealership network is extensive, opportunities are still there in the US, France, Germany and many other countries, and we would be keen to hear from interested companies who share our values and passion. We honestly consider (Screencore) to be a market leading range," commented Ciarán.
More to come
Screencore has embraced the operating philosophy that to stagnate is to die. This means that the product range is continually evaluated and developed. "We've got exciting plans for the short, medium and long terms," said Ciaran. "In the coming months we will properly launch our 30t XJ dual power jaw crusher and other exciting new developments. The manufacturing process is continually being developed, and we are working with our suppliers to ensure that we provide the highest quality levels to our customers. The fact that we have placed so much effort into sourcing the right distributors' means that no matter where Screencore operates, users can be assured of the very highest levels of support and advice," concludes Screencore's Ciarán Ryan.