The family-run business was founded in 1989 by Volker Haas. At first, HAAS focused on the design and manufacturing of vertical and horizontal drum chippers, screens and conveyors for the sawmill industry. The primary production program for the disposal of sawmill residual products has been steadily completed.
During the last years – by means of a constant construction development as well as a market-orientated planning – HAAS became one of the leading manufacturers of turnkey waste wood recycling installations as well as of crushing installations for potentially recyclable resources.
HAAS Recycling-Systems (Haas Holzzerkleinerungs- und Fördertechnik)  plans, manufactures and mounts installations for waste wood, industrial waste, bulky and domestic waste as well as complete installations for the treatment of residual wood in the sawmill industry.
In the meantime HAAS Holzzerkleinerungs- und Fördertechnik GmbH has installed complete installations for the waste wood recycling, the disposal of sawmill residual products as well as for the chipboard industry all over Germany. Furthermore HAAS has realized waste wood recycling installations in Austria, Switzerland, the Netherlands, Belgium, England, Russia, Italy, Spain, Slovakia, Canada, Africa as well as in Pakistan. The modern HAAS installations are working solidly with low maintenance costs at a very competitive price. The use of a sophisticated technology and well-approved concepts assure our and your success. HAAS offers a large production program for different tasks such as crushing, conveying, dosing, stocking and evacuation.
Technological competence, effective engineering as well as an intensive development research and the close collaboration with the customers are the main reasons for the success of the HAAS installations and guarantee a long-lasting, successful collaboration with manufacturing companies and planning offices all over the world.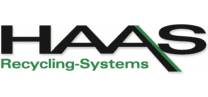 Company name:
Haas Holzzerkleinerungs- und Fördertechnik GmbH
Address:
Unter den Weiden 6
Phone number:
+49266198650
Fax number:
+492661986520