High-quality rigid foams are used as insulation material in refrigerators and in the construction industry. The use of this polyurethane (PU) insulating material has a positive impact on greenhouse gas emissions in the construction sector and in heating and cooling, but at the end of its life cycle, it itself becomes a problematic material in terms of recovery or disposal. Recycling these materials is extremely difficult because polyurethane is a thermoset plastic and, unlike thermoplastics (PET, PP, etc.), cannot be recycled materially. Currently, the only disposal route is incineration in waste-to-energy plants or co-incineration in the cement industry.
The European Green Deal project Circular Foam aims to find a sustainable solution for PU rigid foams. The plan is to convert them back into raw material for PU production in a resource-conserving manner. In addition, a sustainable recycling system is to be created: Logistics and waste collection systems, dismantling options, and intelligent sorting solutions for identifying and recovering the various polyurethane materials are being developed so that they can then be chemically recycled.
For this purpose, 22 industry, research, science, and association partners from nine countries have joined forces in this EU-funded lighthouse project. REDWAVE is the project's technology partner for solutions for the detection, sorting, and recovery of the materials and provides many years of know-how not only as a sorting machine manufacturer but also as a plant manufacturer. The project aims to, within four years, establish a complete closed-loop value chain for raw materials for rigid polyurethane foams. A roll-out of this system across Europe starting in 2040 could help save one million tons of waste, 2.9 million tons of CO2 emissions, and 150 million Euros in incineration costs each year.
The project volume is 19 million euros. The project was selected by the European Commission as part of the Green Deal tender and funded with meager 16 million Euros from the EU's Horizon 2020 funding program.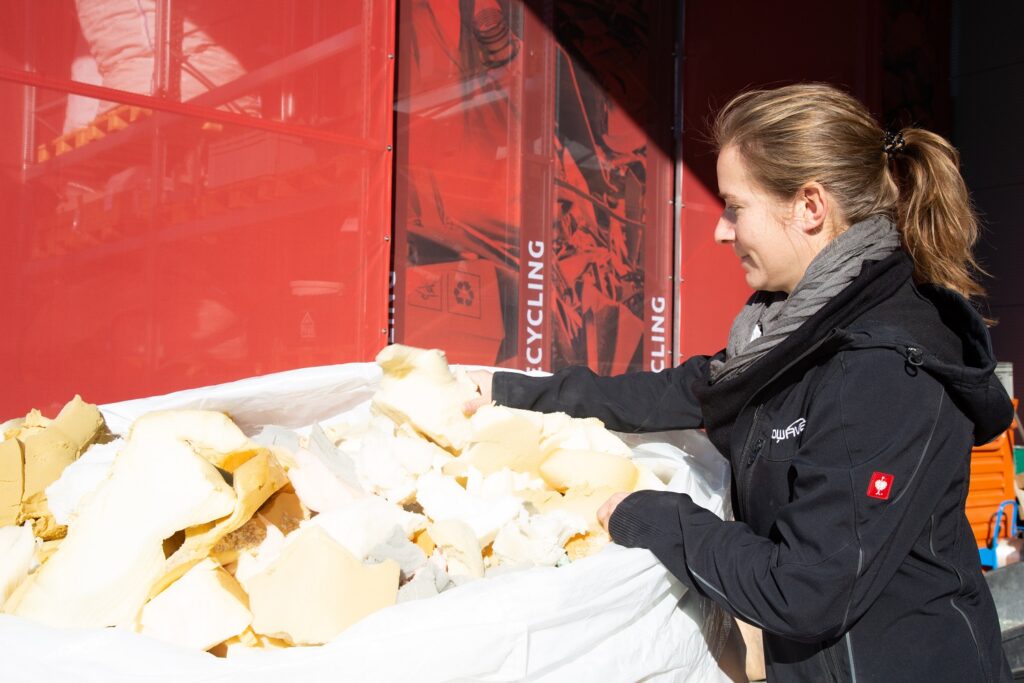 Another European research project called PUReSmart kicked off about 3 years ago. This project is another one in which REDWAVE serves as a technology partner and provides systems for the automated detection, sorting and recovery of PU soft foams from used mattresses and upholstered furniture. As with rigid foams, the basic building block polyurethane cannot be recycled mechanically, so other recovery routes must be sought. Katharina Ander, a member of the REDWAVE R&D team reports: "After about three years of research, we have been able to gain a lot of knowledge and make considerable progress towards a material cycle for soft polyurethane foams."
Collaboration with partner companies, research institutes and universities make it easier to take a holistic view of the process. The mutual exchange of knowledge between the interdisciplinary teams is the main focus here in order to pave the way for achieving the EU's ambitious recycling targets. Silvia Schweiger-Fuchs from the REDWAVE management: "Of course, it is a benefit for us as a company to be a partner in research projects like these, because the knowledge gained in them can be directly incorporated into our products. For us it is important to be and continue to be a technology pioneer in the industry. However, our recycling industry has one overarching goal that we cannot ignore: Jointly finding new ways towards a functioning circular economy and pursuing the long-term goal of zero waste. That's why we will continue to support research projects such as these. For our environment! "
Students from partner universities are also given the opportunity to participate in the project, gain practical experience and write theses at REDWAVE as part of the research activities. Currently, two students from Colombia and Indonesia are taking up this offer and spending several months at the REDWAVE in Styria.