In order to support you in operating and optimizing your recycling system in the future, another step in the direction of artificial intelligence has been taken in the recycling industry. 24 hours a day … 7 days a week … 100% there for you!
The REDWAVE 2i technology presented in 2018 was already based on machine learning and artificial intelligence. This technology links different types of sensors. Predictive parameterization and further steps towards artificial intelligence now bring REDWAVE MATE to life. The friend in the recycling industry – to monitor and optimize the entire sorting plant!
REDWAVE MATE is the first system to measure quality and to record and analyze information during production. The collected data is not only used for monitoring and as a source of information but also to ensure optimal plant and sorting operation. Artificial intelligence not only increases plant availability and sorting efficiency, but it also maximizes yield and purity. The communication between the sorting machines takes place in real-time. Monitoring across platforms makes the flow of information manageable.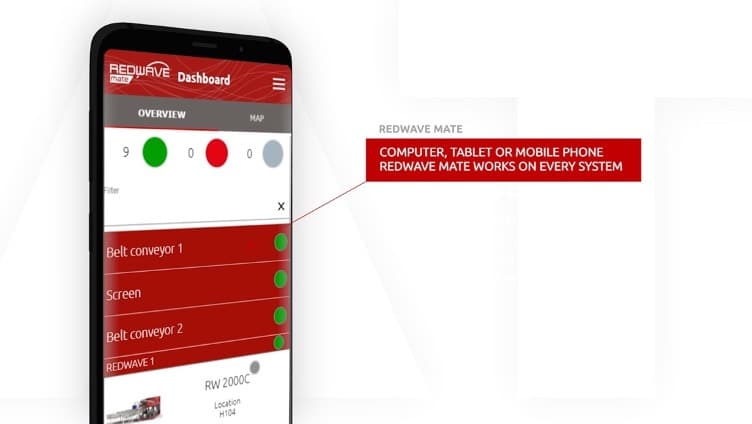 How does REDWAVE MATE support you?
By optimizing plant and sorting operation
By improving and optimizing sorting rate and final output quality
By increasing plant availability and sorting efficiency
By monitoring, material flows across platforms
By comparing individual machine data and recommending parameterization
By making data for e.g. plant managers always immediately available
By being available on all commonly available mobile devices
By exporting and processing data
Managing Director Mrs. Mag. (FH) Silvia Schweiger- Fuchs: "In REDWAVE MATE we have combined artificial intelligence with data, analytics, and automation in order to be able to offer our customers the best possible transparency of their machines and plants. Access or monitoring and communication with your plants and machines are possible anytime, anywhere."
With REDWAVE MATE, we have created an artificially intelligent friend that will support you in operating a sorting plant or just individual sorting machines as efficiently and profitably as possible. With a friend by your side!