For recyclers shredding tires, the loading and unloading of shredded materials from conventional scrap containers can be a logistical bottleneck in their operations, wasting labor and time. The challenge is that portable shredding systems have not been designed to take advantage of one of the recycling industry's most labor-efficient types of containers: open-top walking floor semi-trailers, which simplify loading and unloading.
"Traditional portable shredders cannot reach the height of an open-top walking floor semi-trailer, which is the standard in the recycling industry. When loading scrap containers, typical portable shredder conveyors can only reach about 9' high at best, while the ubiquitous semi-trailers can be up to 13' high," says John Neuens, Industrial Consultant for Milwaukee, Wisconsin-based BCA Industries, which designs and develops a wide variety of professional recycling equipment and accessories. "As a result, tire recyclers have been limited to using roll-off trailers or dumpsters with these kinds of systems."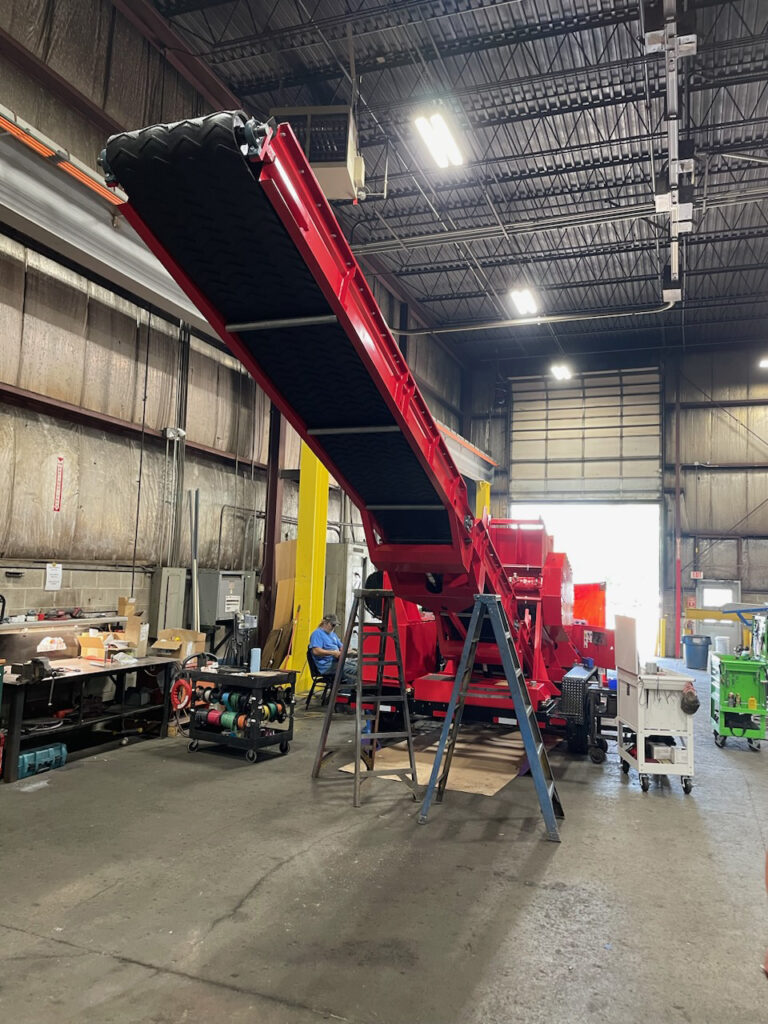 Another difficulty the industry faces is an excessive amount of shredder downtime and associated costs for knife sharpening and maintenance due to the voluminous processing of bulky materials.
These obstacles are now being resolved with portable, high-volume shredder trailer systems specifically designed to work with open-top walking floor semi-trailers. The portable shredding systems minimize production downtime and maintenance costs by utilizing readily available off-the-shelf parts and quick-replace cutter heads, according to Neuens.
"Now, recyclers can rapidly shred tires and reach the heights needed to load open-top walking floor semi-trailers without moving any of the shredding equipment," says Neuens.
He notes that the latest dual-shaft, low-speed, high-torque shear shredding systems can shred automotive and light-duty truck tires at a volume of 4 to 5 tons per hour. Operators can also shred semi-trailer truck treads after sidewall removal.
Increasing Production Efficiency
Open-top walking floor trailers have been a widely used standard in the recycling industry for good reason. These trailers provide more efficient loading and unloading by utilizing a series of hydraulically controlled metal slats on the floor that work together to move heavy or unwieldy cargo.
To increase tire recycling productivity specifically, BCA Industries built a portable shredding system called the PD1000 IO X, designed for use with open-top walking floor trailers. The PD1000 IO X comprises the PD1000 shredder along with a PD1000 IO conveyor, a unique "double-jointed" system that hydraulically "unfolds" to a height of 13 feet.
Essentially, the system works together as two separate yet fully integrated units. The conveyor feeds tires into the shredder's large 36″ x 28″ cutting chamber where 2″ x 14.625″ 4-hook knives shred the material to the desired size. The larger unfolding section deposits the shredded material into the open top of the walking floor trailer.
To meet the industry's need for true portability and ease of use, the PD1000 IO X system is transportable with a non-CDL vehicle such as a 1-ton pickup truck. The power unit is completely self-contained diesel/hydraulic system so does not require additional electrical connections or a concrete slab for use.
Operators can also use the PD1000 IO X to recycle plastics, pallets, electronic waste, construction/demolition waste, ferrous and non-ferrous metals, furniture, paper, and clothing.
Since shredder downtime is an issue for high-volume recyclers, the ideal system would minimize the need for costly repairs and maintenance.
However, with traditional high-torque shredders, the cost of repair and downtime can be excessive, particularly when waiting for an overseas supplier to refurbish or rebuild the cutting head. For this reason, some tire recyclers keep a full-time millwright or mechanic on staff.
To reduce downtime and maintenance costs, the latest high-torque, portable shredder design eliminates "catastrophic cost" parts. The PD1000 shredder, for example, does away with the typical complex gearbox and instead utilizes a double, heavy-duty chain drive. An inexpensive "off-the-shelf" American-made hydraulic system utilizes dual motors that are readily available. A proprietary 6-key shaft design also eliminates the risk of conventional hex shaft "washout" along with its service problems.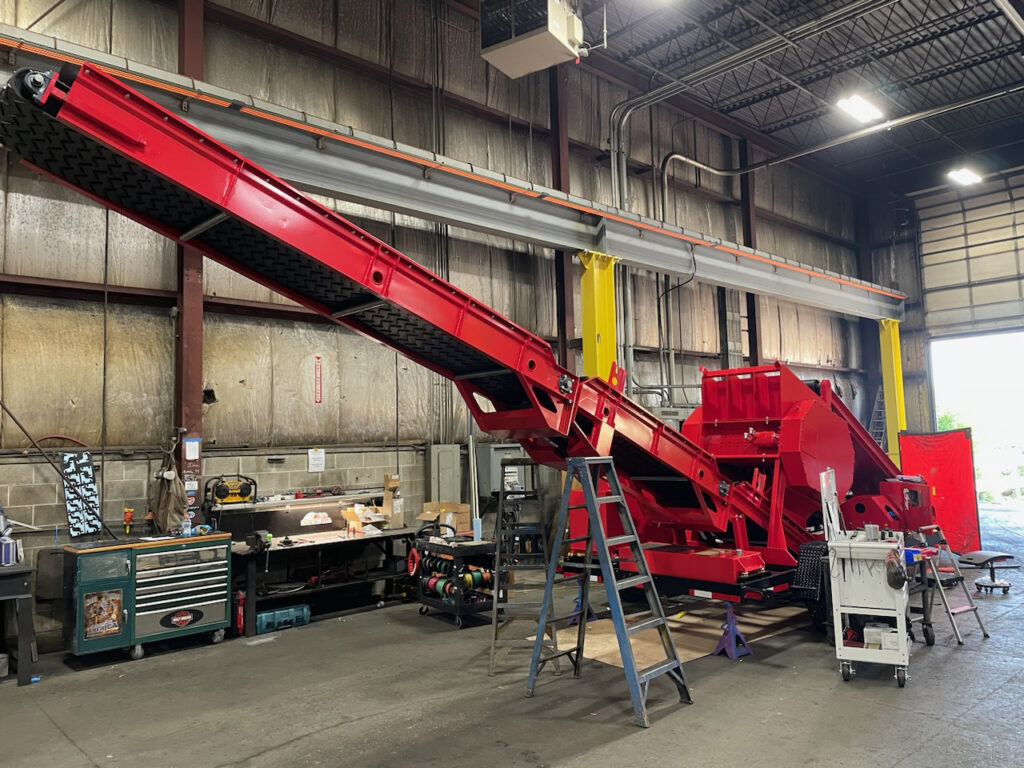 When needed, maintainers can quickly and inexpensively replace every part of the cutting head. To minimize downtime, they can remove the shredder's modular head from the system and swap it with a fresh head in less than one hour or maintain it safely at ground level.
BCA also offers a shredder head service program that can reduce downtime. With the program, a forklift can remove the lightweight head. The head can then be shipped to the manufacturer utilizing inexpensive LTL carriers, factory-certified, and be returned within 7 to 14 days if an extra set of knives is purchased. The service program eliminates the need to have highly skilled technicians on staff for shredder maintenance, reducing labor costs, and the rebuild comes with a factory warranty.
"The PD1000 IO X is designed to be the least expensive per ton system to operate," says Neuens.
For tire recyclers, the ability to utilize truly portable high-torque shredding systems, along with open-top walking floor semi-trailers, can now significantly increase the efficiency of loading, unloading, and production. Using shredders with simpler, more cost-effective designs can also substantially reduce maintenance and repair costs while further improving profitability.