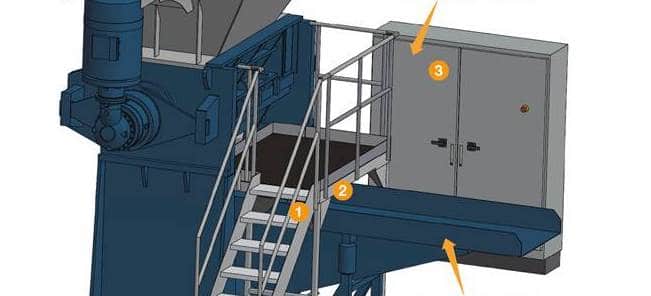 Danish manufacturer of tyre recycling equipment, ELDAN Recycling A/S, has developed a new sensor-based system to detect foreign objects in tyre shreds and reduce the risk of breakdowns and yearly down time.
The ELDAN Foreign Object Detection (FOD) system consists of a sensor system monitoring the vibrating discharge conveyor following the ELDAN Super Chopper. Changes in acceleration from dense objects hitting the surface are picked up by the FOD system, which will stop the material flow of the plant and give off a warning signal. It is then easy for the operator to search through the material on the vibrating discharge conveyor, find and remove the foreign object, and continue production without further problems.
"We have run the system for more than 9 months at a customer's site to test the efficiency and are very satisfied with the results so far," Mr Jan Kjær, head of R&D at ELDAN, said. "A breakdown is expensive both in terms of down time and spare parts, but even the most thorough cleaning of the tyres cannot remove all the foreign objects that may hide inside. This system will serve as an extra safety measure to protect the following machines."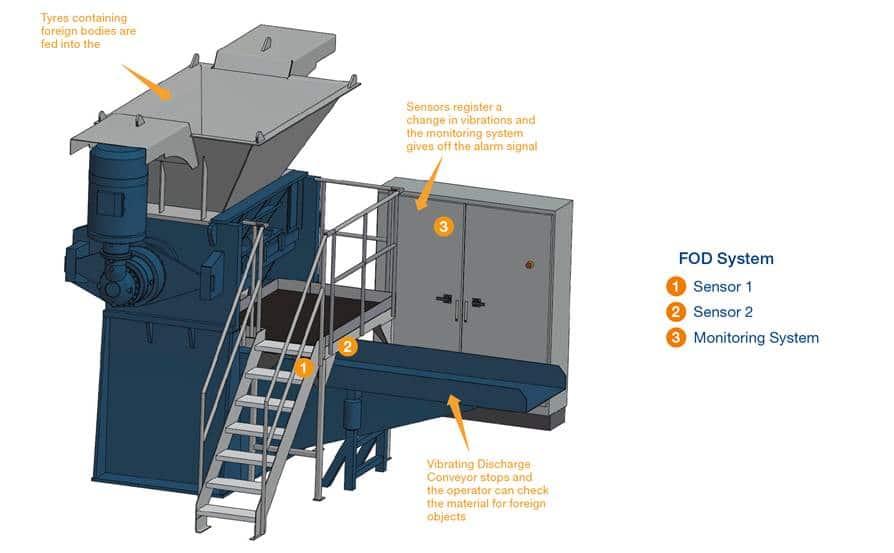 To prevent a false sense of security, the system is equipped with a back-up safety system in case one of the sensors fail. It can run with just one functioning sensor but will give off a warning signal. If both sensors fail, the plant will stop completely.
The FOD system can detect both small and large metal objects and stones, and the sensors can be adjusted to meet specific customer demands. "We are currently developing the system for other types of input material too, e.g. cables," Mr Kjær says. "The plan is to start testing with a customer soon."
The ELDAN FOD system is nominated in the "Best Tyre Recycling Innovation" category at the Recircle Awards 2020.
This article is published by
ELDAN Recycling is a leading supplier of modern recycling equipment. We give our customers the best possible tools to succeed with their business, and we are recognised worldwide for it. During the years, we have supplied equipment to some of the largest recycling companies in the world, helping them making recycling a successful and profitable business. Since ...