The star of the team is Ground Force Environmental Inc., which does civil, industrial and technology environmental remediation work throughout Ontario, Canada, and beyond. AGI's trucking company, RCT Bins, transports waste from worksites and municipalities and WasteAway Recycling & Environmental, located in Kitchener, Ontario, processes all of the material from the two companies, as well as from other area sources.
The well-crafted team has taken the company's owner 10 years to develop. AGI was started in 2009 by Dan Forsyth when Ground Force Environmental opened its doors. Along the way, the trucking company was added, and land for WasteAway was secured in 2012. It would take an additional three years for the organization to obtain all the necessary permits and develop the 14,400 square foot building (1337.8 m2) to house the waste recycling operation. Today, Forsyth's vision of creating a complete operation that could process recyclable material for beneficial reuse, helping the environment and saving landfill space, is a reality.
Excelling in all three phases
Starting with a team of five individuals, AGI now employs more than 100 full-time employees. Each division works together but operates separately. Ground Force handles the bulk of the work on the job. Then, construction debris and other material are hauled by RCT Bins' fleet of trucks to the WasteAway facility for processing. If a project calls for land clearing, WasteAway will send a crew to the site to grind material using its Vermeer HG6000 horizontal grinder.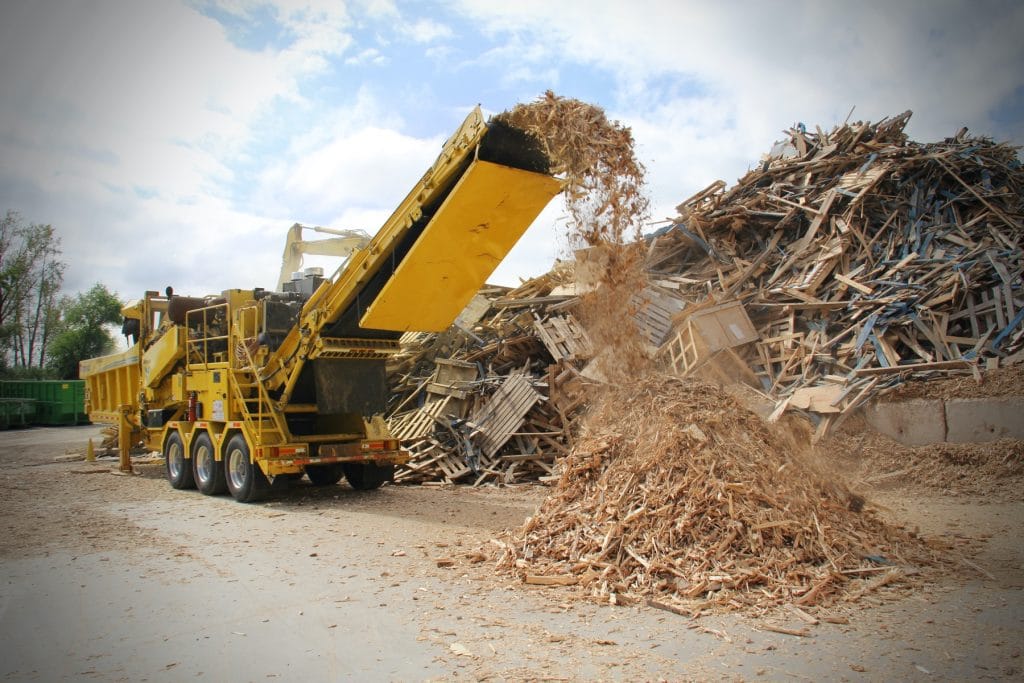 The machine spends a lot of time in the field but is also essential back at WasteAway's recycling facility. "We replaced a couple of smaller machines with the HG6000 horizontal grinder in 2016," explained Mike Forsyth, operations manager for WasteAway. "All of the wood waste we receive at our facility is processed with that machine, and we also send it frequently out to the field. We depend on the machine for a lot of things."
The wood chips processed through the grinder get reused as biomass for making animal bedding and for creating material to absorb liquid waste. "Our biggest customers of the processed material are ourselves (Ground Force), followed by greenhouses and the farming community," said Forsyth. "It's pretty cool how we're able to reuse the bulk of the waste we collect. It's what makes us a great team."
The WasteAway HG6000 horizontal grinder is set up to grind material to under 3"(7.6 cm) in size using a hex shape screen. Forsyth said their setup creates the right size material for their biomass needs and helps separate nails and other debris, while still giving them a production rate of 200 to 250 yards per hour (182.9 to 228.6 meters per hour).
Overcoming challenges
Since adding the Vermeer horizonal grinder, the amount of wood waste and processing work for other companies has increased dramatically and oftentimes the raw material isn't as clean as what Forsyth would like to see. But, not catching contaminates, especially metal, was causing increased maintenance on the machine. "In the beginning, it was easy to presort through the wood waste material by hand and remove any non-wood debris," he explained. However, as we've grown, so has the amount of waste we're taking in which has made sorting through everything impossible. It's also not a realistic expectation to ask customers to make sure there isn't any non-wood material in their piles when we're working at their locations."
Determined to come up with a viable solution to catch more debris before it goes through the hammermill, Forsyth reached out to his local Vermeer Recycling and Forestry Specialist, Russ Cogar with Vermeer Canada. "Russ told me about the Vermeer Damage Defense system for horizontal and tub grinders," said Forsyth. "It sounded like a great solution for the issues we were having, and it was much more practical than some of the other options I was considering, which included having to thoroughly presort everything."
According to Cogar, the Vermeer Damage Defense system was launched in early 2017 to reduce the likelihood of significant machine damage caused by some types of metal contaminants entering the grinder's hammermill. "The system will alert the grinder control and operator and automatically initiate the shutdown process if the mill comes in contact with the certain metal contaminants," Cogar explained. "It can be an effective solution for contractors who have a lot of foreign debris mixed in with their wood waste."
Forsyth thought it was exactly what he was looking for and the team from Vermeer Canada installed the Damage Defense system on WasteAway's HG6000 horizontal grinder in the summer of 2017. "It didn't take much time for them to complete the install," he said.
Smart investment
The Vermeer Damage Defense system has significantly helped optimize the performance of WasteAway's HG6000 horizontal grinder.. "Now, we wouldn't think of running the grinder without having the Damage Defense system engaged."
With the Vermeer Damage Defense system helping to optimize productivity, WasteAway's HG6000 horizontal grinder operates more hours every month so the two-person grinder crew can stay productive at their facility and while on customers' jobsites.
Game plan for the future
Forsyth said it's been a wonderful experience to help his father (Dan) make his dream a reality. "The business has come a long way from when I started working at Ground Force in 2014," he continued. "We've added other businesses to support his vision, and we've set up the WasteAway facility to thrive as recycling becomes common practice in the waste industry. We have the equipment and people to handle separating different types of recyclable material and have already demonstrated that we can create a second life for the waste we collect. I believe we've established three organizations that will continue to lead the industry into the future."
###
This article contains third-party observations, advice or experiences that do not necessarily reflect the opinions of Vermeer Corporation, its affiliates or its dealers. Testimonials and/or endorsements by contractors in specific circumstances may not be representative of normal circumstances experienced by all customers.
Vermeer Corporation reserves the right to make changes in product engineering, design and specifications; add improvements; or discontinue manufacturing or distribution at any time without notice or obligation. Equipment shown is for illustrative purposes only and may display optional or global-region specific features, accessories or components. Please contact your local Vermeer dealer for more information on machine specifications.
Vermeer and the Vermeer logo are trademarks of Vermeer Manufacturing Company in the U.S. and/or other countries.
© 2018 Vermeer Corporation. All Rights Reserved.