Rammit SpA has been in business since 1980, consistently evolving to embrace technological and market developments. Today the company is the exclusive distributor in Italy for some of the leading brands in the construction industry, specifically excavators, breakers, hydraulic attachments and tools. The company focus is very much on the mining, demolition and recycling industries, but all of its product lines are designed to provide customers with the reassurance of world leading brands backed by the highly trained customer focused service personnel from Rammit. All the product lines have been chosen for their proven quality and the requirements of the Italian market, with the full range of Allu Transformers being one of the most recently added lines to Rammit's portfolio.
The company is based in Ariccia, 20km from Rome, with offices and workshops strategically located in other parts of Italy. The Rome location is close to the A1 motorway, with much thought given to logistics in order to provide the fastest customer service throughout Italy. All of Rammit's business units have offices, a spare parts' warehouse and a well-equipped workshop for equipment service.
Customer for over 20 years
Martintoni S.r.l. is a well know Italian company specialising in earth moving and recycling, being located in Trentino Alto Adige. The company's formation dates back to 1955 when Marco Martintoni, invested in a tiny Fiat truck loader, one of the first in the area, for use in forestry works. In 1958 the business expanded into excavation and material haulage with the company's fleet expanding over the years.
Over the years it has not just been the equipment fleet that has expanded. Following changes to the business structure and relocation to Fondo, a 3,000m2 plot of land was acquired which was used to construct a specialist material handling and processing facility, with adjacent land being purchased in 2001 for use as offices and workshops. Two mobile crushers and screens were also acquired for crushing and screening both recycled and primary aggregates. A recycling centre was also built for dealing with construction rubble and demolition material.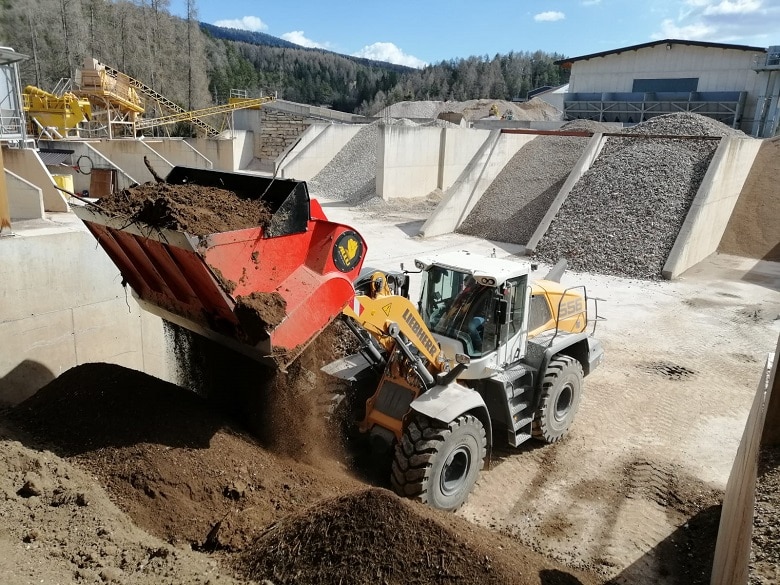 Martintoni S.r.l. has also been a customer of Rammit Spa for over 20 years. During this time, Rammit has supplied a range of equipment including several Rammer demolition breakers and an OilQuick OQ45-5 hydraulic quick coupler. In 2017, the company was faced with a new problem to overcome: namely how to provide efficient, cost effective, profitable and environmentally material handling and processing. Martintoni of course turned to its friends at Rammit, and during the Ecomondo exhibition, Martintoni discussed with Rammit specialists the best tool for screening heavy topsoil (which had proved to be impossible to work with using its existing mobile screening plant).
New transforming solution
The meeting led directly to Rammit supplying a new Allu Transformer with the revolutionaryTS blade structure, with the Allu attachment being fitted to Martintoni's new Liebherr 556 Xpower wheel loader. The proposed DS 4-23 TS16-32 model with screening blades was demonstrated working on topsoil and other materials that would normally be sent directly to landfill. However, in order to provide a more difficult proposition, a demonstration was arranged at Allu's headquarters in Finland on particularly sticky and 'difficult' soil.
The demonstration in Finland went very well, with the representatives from Martintoni also taking the opportunity to visit the Allu factory, and inspect the production process, spare parts facility and inspect the quality of the components used in manufacture. Following a reappraisal of Martintoni's requirements, it was also decided to use an OilQuick hydraulic quick coupler (OQL 310) in order to hook / unhook the Allu attachment rapidly when the need arose.
Since its delivery and fitting to the loader, the Allu Transformer DS 4-23 TS16-32 has performed well above expectations. It was commissioned for the customer by Allu trained Rammit technicians, and has been used regularly for screening soil from excavations carried out by Martintoni or by third parties. Most of the excavated material contains a high percentage of roots and branches and other contaniments which the bucket, set with a spacing of 16mm, is able to screen very effectively. The Allu Transformer is generally loaded to its maximum capacity of 3.5 m3 and is able achieve the desired daily production of over 1,000m3, processing the sticky material in 20-30 seconds.
The future
Martintoni S.r.l currently has acquired 15,000m2 of land which saw the building of a new fixed sand and gravel processing plant in order to provide a wider range of aggregates for general structural construction. In addition to the processing of aggregates, the company now receives and processes materials emanating from excavations, earthmoving, remediation, pipeline, roads, building construction and landscaping. In order to do with these materials, the company uses a fleet of trucks, excavators, rollers, wheel loaders, as well as a new Allu TM Transformer DS 4-23 TS25 to help transform its operation.