EDGE Innovate has been pioneering the use of electric drives in their products for over 20 years. This experience and knowledge have spearheaded their move to the electrification of their popular VS420 slow speed, high torque shredder.
EDGE Innovate's VS420E Hybrid model replaces the traditional 310Kw CATERPILLAR engine with two 132KW motors that provide the exact same production capacity and torque levels to that of a diesel/hydraulic drive unit. A small 55Kw diesel engine provides the flexibility of tracking, and use of all set up functions. An additional 11Kw auxiliary motor allows for all set up functionality to be available in both "Electric" and "Diesel / Hydraulic" modes.
Design features
The VS420E offers a host of design features as standard. For instance, to shred, EDGE's safe and simple "Plug and Shred" function enables operators to connect and disconnect the shredder to the grid in the matter of minutes. As like the diesel hydraulic version, the VS420E combines EDGE's Intelligent Load Management and the VS Status Alert System. The two systems work in tandem to ensure the efficient loading of the shredder. This in turn, allows the operator to achieve consistently high throughputs and most importantly, experience minimal downtime. Unlike other hybrid shredder versions, the VS420E can adjust set up functions such as conveyor discharge angle in "Electric Mode" whilst also having the ability to track small distances to form new material stockpiles. Again, reducing operational downtime.
Performance
The high material throughputs achievable by the VS420E is made possible thanks to a set of 2m long, high torque shredder shafts that can be customised to suit a customer's exact application and to create a designated final product piece size.
EDGE Innovate offer a wide range of tooling options and chamber configurations to ensure that the VS420 is set up to achieve the best results for its operators. With decades of experience, the EDGE team are in the perfect position to advise on the best set up for their clients so that their unit creates the right tonnage at the desired piece size.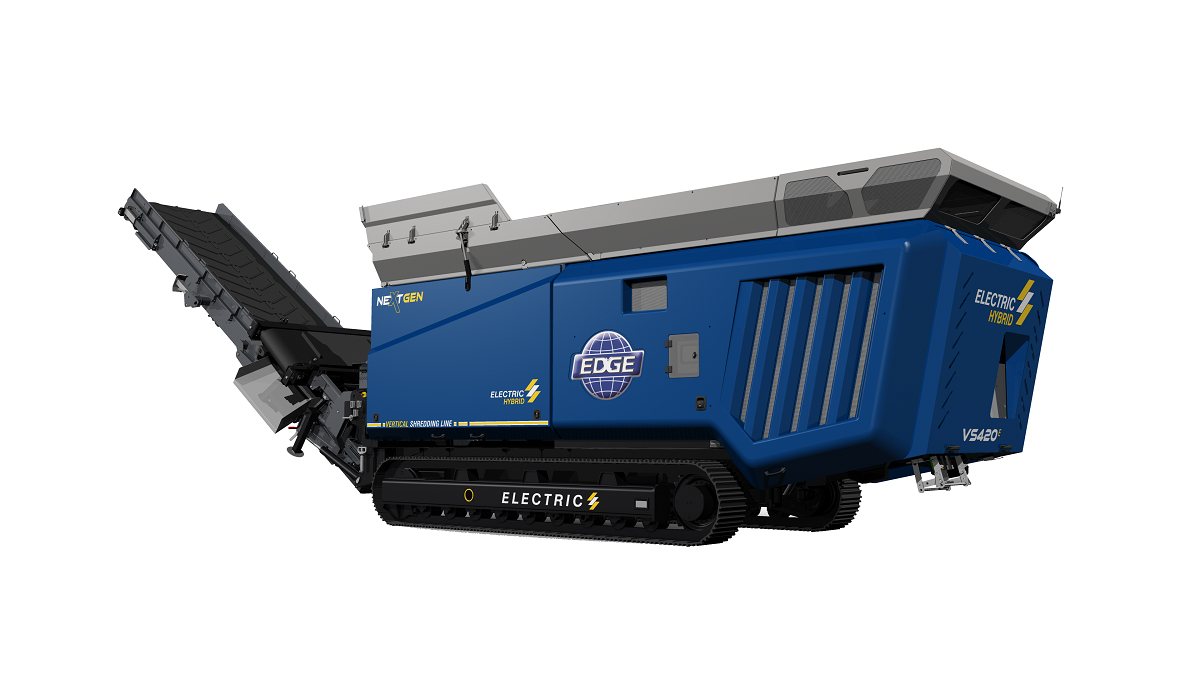 Advantages of electric hybrid
The advantages of an electric hybrid powered unit over diesel models extend well beyond the obvious savings on diesel fuel. Electric hybrid powered equipment can significantly reduce operating and maintenance costs, while providing unbeatable dependability and uptime. For example, electric systems are much more efficient and more reliable in extreme climates than that of traditional diesel / hydraulic powertrains.
Due to their emission free operation, electric powered units can also be deployed indoors or moved between indoor and outdoor applications. With no engine noise produced when shredding, the VS420E is the ideal shredding partner in built up areas or in markets where stringent environmental, legislative or noise constraints are enforced.
With diesel prices rising and fluctuating globally, electric hybrid powered units allow for a much more accurate cost forecasting and a quicker return on investment.