The shredding action for larger shredders, such as those common in industrial applications, is not dissimilar to what you would observe for your office or household shredder. Larger shredders are often used in recycling applications and can shred anything from waste and plastics to metals and cars.
With a greater focus on sustainability in the UK, these shredders play an important role in the development of the circular economy. For example, about 85 percent of steel is recycled at the end of its first useful life, meaning shredders that can shred cars and scrap metal are in demand. However, while more shredding will be important in increasing recycling, the process itself should also be as energy-efficient as possible. VSDs can contribute here by improving the efficiency of shredder control.
Larger shredders also share the same tendency we have all witnessed on a smaller scale — something jams between the teeth and the mechanism grinds to a halt. These blockages persist when the mechanical drive does not have sufficient torque to drive through the object that has caused the jam. Repeated jams can limit throughput and wear down the parts used in the shredder, raising maintenance costs.
There are two options for a shredder facing this common problem. Firstly, the shredder can simply drive through the blockage, although it obviously requires sufficient torque to do this. Secondly, there is a reversal function to rotate the blades back in the opposite direction, to clear the jam before resuming. For large shredders, this reversal function is triggered automatically.
Although reversals might be a simple solution for your everyday shredder, too many reversals significantly curtail throughput on larger industrial shredders. If you can successfully monitor the load the shredder is facing and control the speed, you can cut out unnecessary reversals and improve the efficiency of the process. That's the primary advantage of VSDs in shredding applications, but further benefits include energy savings and reduced maintenance costs.
A bespoke solution
Systems integrator Technidrive was called upon to provide a control system for a shredder in a recycling application. Technidrive selected the mechanical drive system, including the electric motors and gearboxes to drive the two shredder shafts. Next, they went about supplying the control system.
For this they turned to WEG for a VSD paired with a WEG motor. Specifically, Technidrive's engineers chose the WEG W22 premium efficiency IE3 motor. ''We opted for this motor due to the robust cast iron frame and high efficiency,'' explained David Strain, technical director at Technidrive. ''Another key benefit was pairing this with the WEG VSD allows us to give the customer a 3-year manufacturer's warranty.''
The VSD gathers real-time data on torque, current, voltage, DC bus voltage and frequency. With some clever programming, Technidrive was able to engineer the VSD to allow it to decide when a reversal of the shredder should take place, based on this data.
Technidrive supplied a control system with a HMI touchscreen on the front panel, which was connected directly to WEG's VSD. An additional benefit of this solution was there was no need for an external programmable logic controller (PLC). The customer could now alter the current and speed using the HMI, and vary these depending on real-time data. This would provide for a more efficient throughput, while also allowing the flexibility to adjust for different materials.
As this shredder was used for shredding different materials such as plastics and metals, a solution that provided flexibility was important. This was a bespoke solution, using a piece of programming engineered specifically for the customer. Technidrive also took care of installation and training with WEG products.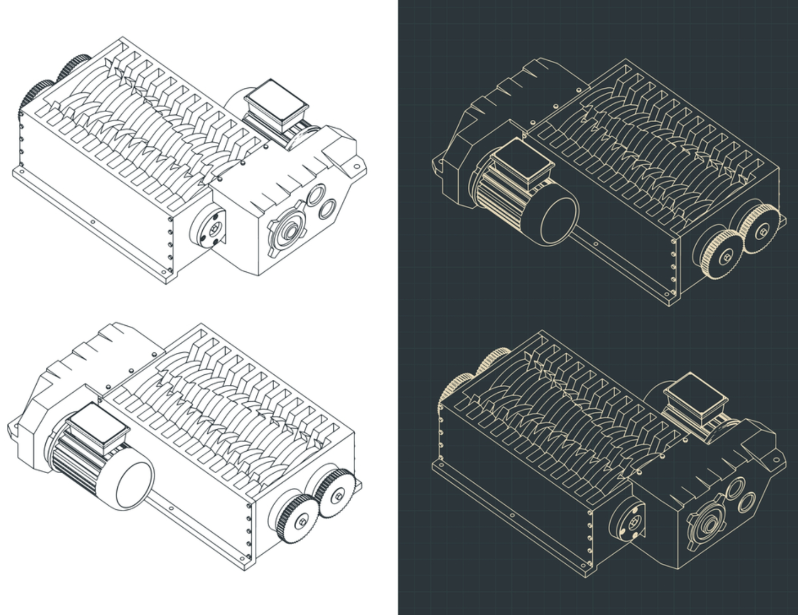 Benefits of VSDs
VSDs are used in a variety of applications to provide control of motors. They convert constant frequency and voltage input power to adjustable frequency and voltage source for controlling the speed of AC induction motors. VSDs allow for controlled starting, stopping and acceleration, as well as dynamic torque control during a motor's operation.
When materials get jammed in a shredder, the quickest fix is for the shredder to drive through it. This is achieved by reducing speed, to gain torque. If possible, this is preferable to a reversal, which takes more time and therefore reduces throughput. With a VSD, the speed control and the more accurate measure of torque means enhanced efficiency.
Traditionally, shredders reverse based on current. When the motor is overloaded, it draws current. However, current can be susceptible to power factor, voltage drop or other factors. Using a VSD provides a more accurate measure of the torque and therefore the true load of the motor.
''Most shredders don't use VSDs,'' explained Strain. ''By monitoring the torque more accurately you measure the true force that is on the shaft and therefore you can protect that shaft and reverse at the correct times.'' This protects the motor and the equipment from damage, by ensuring reversals take place when necessary. More importantly, it cuts out unnecessary reversals and controls the speed in a way that allows the shredder to drive through when necessary, improving throughput.
In addition to these benefits, the use of WEG products was key to delivering the flexibility required by the customer. ''A major advantage of our products is the flexibility of our software,'' commented Marek Lukaszczyk, European and Middle East marketing manager at WEG. ''Our drives come with soft PLCs built into them, providing an enhanced level of control without the need for an additional PLC. This was a major benefit in this application.''
"We could have engineered a similar result with a VSD and an external PLC, but with WEG we were able to take their standard off-the-shelf inverter, which includes safe stop, soft PLC, and DC bus chokes, and engineer them into a specialised application. That's a key advantage that other similar products don't offer," explained Strain.
The customer has been very satisfied with the end result. While many shredders don't have VSDs, those who do adopt this technology are set to enjoy improved throughput as well as savings in energy and maintenance costs. Maybe we still have to put up with our flimsy office shredder jamming from time to time, but those operating with larger shredders can now enjoy the option of a custom-engineered VSD to offer better shredder control.