Continually striving to introduce new technology to the market, Terex Ecotec are delighted to launch the new TDS 825, a robust twin shaft, slow speed shredder. 
Idealfor large-scale operations, this high capacity machine takes shredding to the next level and is suitable for all types of material including household waste, bulky waste, commercial waste, green waste, waste wood, tree stumps and roots. Customisable shredding programs allow operators to configure the machine to their specific requirements, maximising production. The hydrostatic drive offers protection against contamination and allows for bi-directional shredding, while independent gear boxes enable each shaft to be run separately, helping to reduce wrappage and improve the shredding of material. Should a blockage occur, the shafts can be controlled via the radio remote control allowing material to be repositioned before attempting to shred again.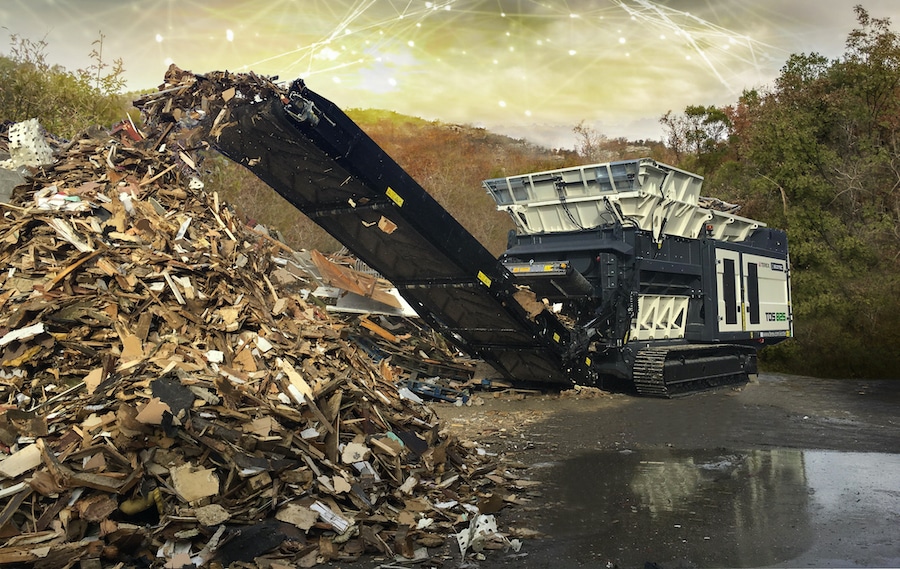 The double shaft shredder has 2.5m long shafts made from solid steel, with a fully welded tooth configuration giving an extremely high production rate with excellent size reduction. Located in the centre of the chamber, directly below the shredding shafts is the replaceable breaker bar, which controls the end product size by retaining material in the chamber to aid reduction and protects the transfer belt from damage caused by large pieces of contaminants. A number of breaker bar options are available depending on the level of reduction required, these are easily replaceable due to the side door chamber access.
Powered by a 770HP Scania V8 DC16 engine, the machine has been designed to provide operators with unrivalled levels of service access. The high volume, tipping hopper increases the feed area providing optimum material feed and can be activated using the control panel or via the remote control. Tipping cycle times can be configured to suit the application. Hydraulic folding hopper extensions allows for increased capacity, preventing the infeed material from falling out especially in bulky applications.

Quick and easy set-up from ground level is guaranteed, taking a matter of minutes with no tools or working at height required. The overband magnet providing magnetic separation is both height and angle adjustable hydraulically, and lifts up and away from the product conveyor when not in use. All conveyors are built to a modular design allowing each one to be removed independently for ease of maintenance. A separate transfer conveyor with a high specification belt ensures material is effectively removed from below the shredding chamber. The product conveyor raises hydraulically and folds into maintenance mode to allow removal of the transfer conveyor. The TDS 825 is manoeuvred via a robust tracked undercarriage, making it a great solution for difficult terrain.
The addition of the TDS 825 Slow Speed Shredder will further enhance an already significant portfolio of products offered by Terex Ecotec, meeting both market and customers' needs. It will be available to purchase via Terex Ecotec's world class dealer distribution network that provide the sales and aftermarket service demanded for in the market place.