The replacement purchase became necessary because the plant of Leicht Küchen in Kirchheim has an increased energy requirement to supply its painting lines, which the old plant could not provide.
In the various plants of the Leicht Group, the panel ofcuttings are collected and put on pallets to form packages of 2.5x1x1.2m. This packages are sent to Kirchheim for shredding and a thermal recycling.
The aim was to get a lot of material into the machine and process it in a short time with little effort. For this purpose, the packages are loaded onto the lifting device with a forklift and then hydraulically dumped into the AZR 1500 S. The Leicht Küchen target of, 20m³/hour is reached quickly.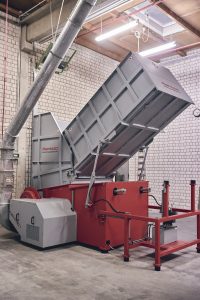 The AZR has a significantly higher throughput capacity, so all delivered sections can be processed centrally in one step. Now large quantities can be loaded directly from the truck into the AZR 1500 S without any intermediate storage. An additional lift system for small parts has become redundant, which has saved additional space.
The typical Reinbold round knives, which can be used up to 8 times by turning and twisting (dubbel lifetime as corner knives) and the economic efficiency of the system have made the AZR 1500 S the preferred choice for Leicht Küchen.
"The good advice, the implementation and the smooth service" have motivated Leicht Küchen to plan further plants with Reinbold Entsorgungstechnik.