The legendary TANA 440 Shark shredder now has a little brother: the TANA 220DTeco. The new model is mechanically similar to the TANA 440 shredder, except it is powered by a single hydraulic motor. Whereas the TANA 440DT shredders have one motor at each end of the rotor, the new 220DTeco has a single motor in one end.
"The new TANA 220DTeco mobile waste shredder is capable of handling municipal solid waste, construction and demolition waste, wood waste and solid recovered fuel. More challenging waste types, such as tires, can be shredded by the larger TANA 440 Shark. The TANA 220TDeco is an extremely cost-effective solution in terms of both acquisition price and operating costs," says Product Manager Eetu Tuovinen.
The TANA 220DTeco can process waste at the same speed at its big brother but with half the torque. Both models share the same wearing parts. The new shredder comes with tracks and is powered by a Stage V compliant engine.
"The new model offers all the same excellent features of traditional TANA shredders, such as user-friendliness and serviceability, as well as smart features that enable the machine, for example, to monitor its own hydraulic pressure levels and optimize its operations accordingly. The new shredder is also extremely versatile and is suitable for recycling a wide range of waste types," Tuovinen says.
Brand-new TANA X553T disc screen
The TANA X553T disc screen is a brand-new product in the TANA model range. The new disc screen has been designed entirely in-house, and several patents for its smart solutions have been applied for.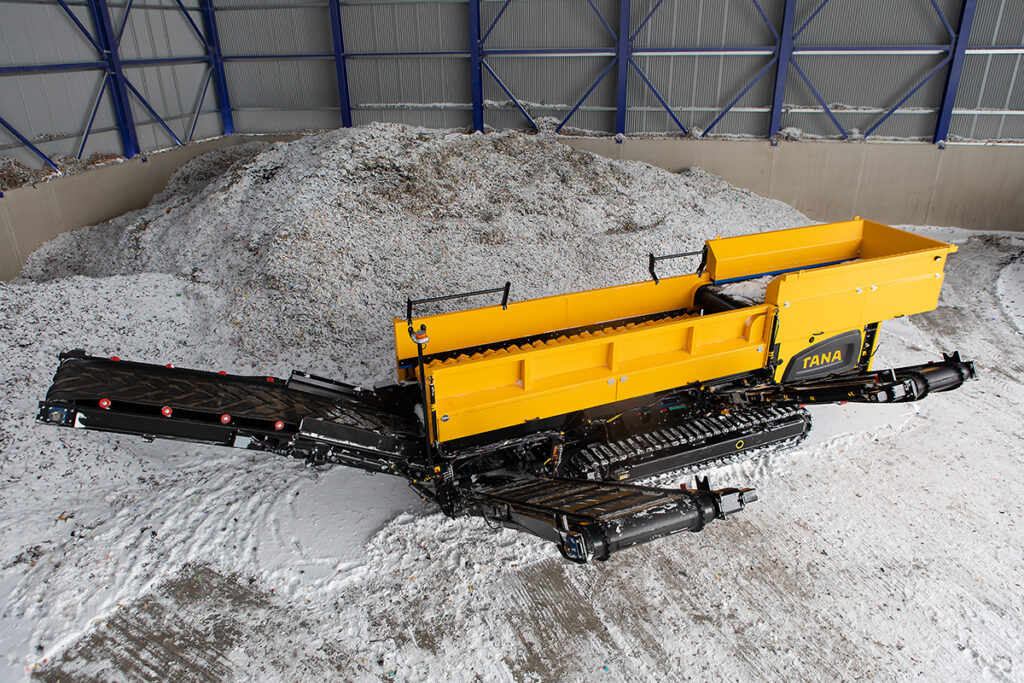 "We wanted to make our disc screen versatile, cost-effective and user friendly. A special feature of our disc screen is its modular screening table, which makes it possible to adjust it to the desired particle size in just 15 minutes. This also facilitates servicing," Tuovinen adds.
The standard-equipped TANA X553T can screen material into two different fractions. A third conveyor is available as an option, making it possible to screen material into three different fractions. For example, the first quarter of the screening table can be used to screen fine materials smaller than 20 millimeters, while the following three quarters can be used to screen medium-sized fractions between 20 and 100 millimeters. Any larger materials become excess.
The discs of the screening table are made from molded plastic. The design is extremely simple, quiet, durable, and cost-efficient. The thin plastics and cords do not easily wrap around the rounded discs. The weight is up to 75 percent lower than with steel discs. The design of the screen discs is also patent protected.
Visit Tana Oy during IFAT 2022 in hall B5.227/326