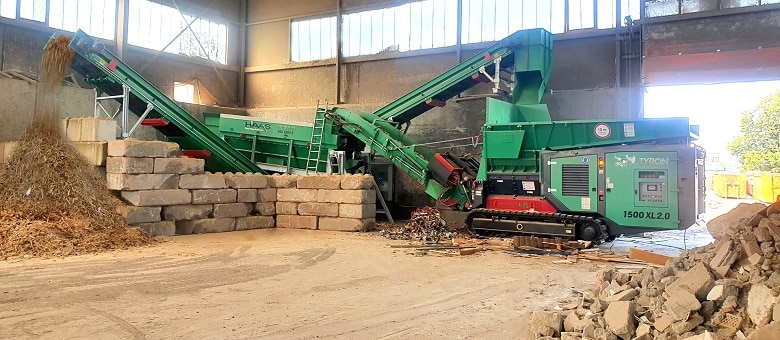 BWE Balthasar GmbH, a classic, medium-sized waste management company with skip hire service, is located in Cologne, Germany.
BWE is a small family business, with a team of 20, who are able to offer their customers quality and flexibility. BWE has been operating a waste sorting plant since 2005. All reusable raw materials are separated from the waste and returned to be re-used. The increasing volume of waste wood meant the old and aging shredder was no longer sufficient to process this volume. The company was looking for a flexible and compact solution to process approx. 40,000 T of waste wood annually into a high-quality chip for use in a biomass power plant. The challenge is to have a single-stage shredding process capable of producing a defined chip size of 80 – 120 mm.
HAAS provided the ideal combination of the TYRON pre-shredder and the newly developed starscreen with oversize returns to meet the customer's requirements perfectly.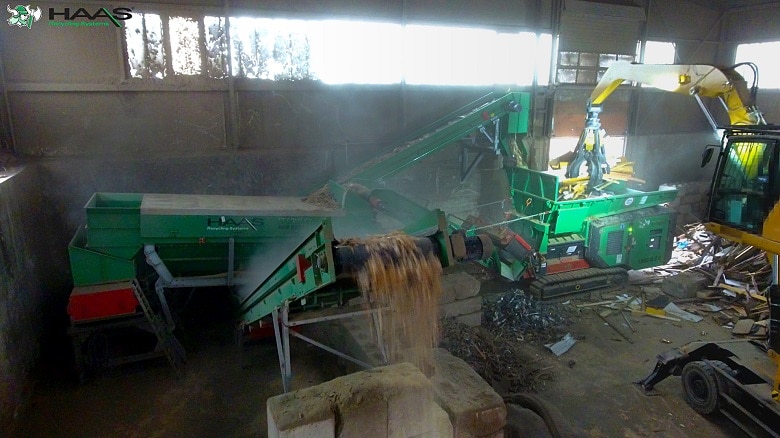 In single-stage, the waste wood can be shred down to the desired spec. It is particularly important that the shredder can process a wide range of input dimensions, as waste wood often comes in very bulky sizes. With its intelligent and aggressive twin-shaft system the HAAS TYRON is ideally suited as a waste wood shredder. The extremely robust shaft system is even suitable for very hardwoods such as railway sleepers with solid iron plates. The extra-fine tool configuration (7/6-4) gives an ideal chip and at the same time an extremely high throughput capacity.
A neodym overband magnet is fitted to the shredder, ensuring the reliable separation of magnetic parts such as nails, metal plates, and hinges.
After shredding, the pre-shredded material is screened. The newly developed HAAS star screen (see the additional ad in this magazine) reliably separates the useful fraction <120 mm from the oversize material >120 mm. The separated oversize material is conveniently fed back to the shredder by the integrated return conveyor.
Thus, the oversize material does not have to be handled a second time by a wheel loader. The energy recovery of waste wood in large biomass power plants is very popular today and often the only way to recycle large quantities of wood of categories B to C, starting from pallets to old railway sleepers. This turns waste wood into a valuable fuel for generating heat and electricity. The preparation process is usually kept as lean as possible in order to feed the power plant at the lowest cost per tonne of prepared fuel.
This article is published by
The family-run business was founded in 1989 by Volker Haas. At first, HAAS focused on the design and manufacturing of vertical and horizontal drum chippers, screens and conveyors for the sawmill industry. The primary production program for the disposal of sawmill residual products has been steadily completed. During the last years – by means of ...