Providing Separation Solutions Since 1899
Dings magnetic separators for ferrous and nonferrous metals are used in a wide variety of industries. In addition to ensuring product purity, they prevent costly repairs and downtime by protecting processing equipment from damaging metal. Reclaiming metals, recovering saleable materials, and concentrating minerals are other important uses for Dings separators.
Since 1899, companies World-Wide have relied on Dings for the most durable, scalable and powerful magnetic separation equipment available. Dings provides solutions for:
Protecting Equipment
Ensuring Product Purity
Recovering Materials
We've been able to solve Eddy Current Separation and Industrial Magnet application problems for companies around the world. Contact Dings for a quote or for expert assistance with your application.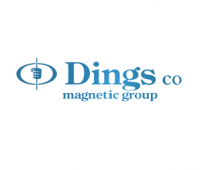 Company name:
Dings Magnetic Group
Address:
4740 W Electric Ave
Phone number:
414-672-7830