Formed 35 years ago, MTB, a Global reference in the management of industrial wastes, focuses its activities around three areas:
the recycling and reuse of non-ferrous metals and complex wastes
the design and manufacture of recycling machinery
the design and installation of turn-key plants.
MTB Group, a company with multiples competences.
As a major recycler of electrical cables in France, MTB recycles more than 40,000 metric tons of industrial waste per year, i.e. 40% of the French market, for major industrial companies.
As an operator but also as a manufacturer, MTB designs, sells, manufactures and installs not only machines but processing lines throughout the world.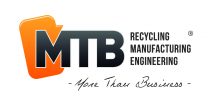 Address:
Quartier de la Gare
Phone number:
+33 474 928 768
Fax number:
+33 474 929 346