PICVISA offers to its clients optical sorting, robotics, artificial intelligence and deep learning solutions. The business units of our company are Optical Sorting, Brain, Robotics & Care.
PICVISA accumulates knowledge and experience in Artificial Intelligence and Machine Vision. Our leadership in the market of optical sorters to automate and optimize recycling facility derives, thanks to a strong commitment to innovation, in intelligent optical and robotic solutions aimed at all types of national and international industries.
Artificial Intelligence and Machine Vision, combined with pneumatic separation techniques and robotics make PICVISA a key partner in the automation race characteristic of Industry 4.0.
Our products and solutions help to improve product quality, maximize performance and reduce labor costs.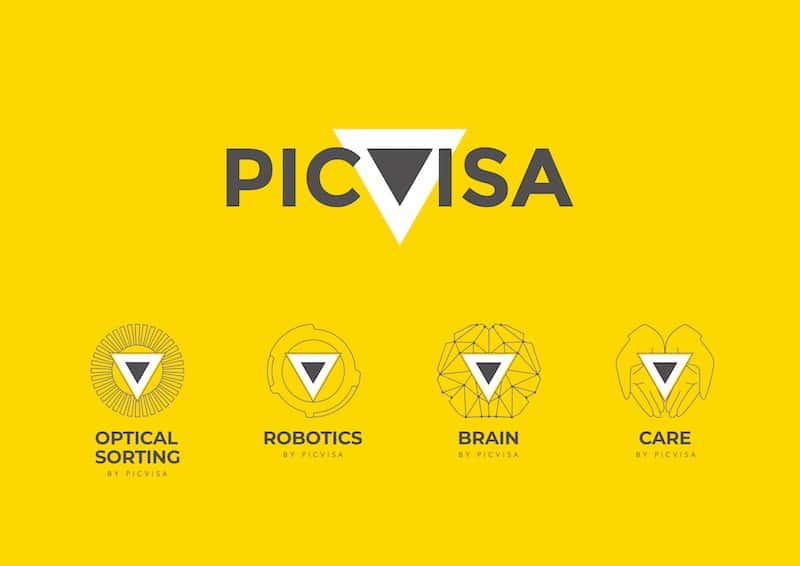 Optical Sorting by PICVISA
Our optical sorters meet the needs of today and offer the solutions of tomorrow. PICVISA designs, manufactures and supplies optical separation equipment to classify materials, recover and recover waste.
We lead the market of optical sorters for waste recycling, although our optical sorting technology is also used in the pharmaceutical industry, in the food industry and in other industries where there are production, triage and quality processes.
Our optical sorters are versatile, flexible and efficient, and guarantee stable results throughout their service life, ensuring a return on investment for our customers. Optical sorting technology improves product quality, maximizes yield and increases efficiency while reducing labor costs.
If you are looking for a solution to optimize your glass recovery process, check out the advantages that the ECOGLASS sorter offers you. If in your waste recycling plant you separate polymers (PET, PE, PP, PS, PVC, EPS, ABS), paper-cardboard and cardboard for drinks and food, you are interested in knowing the advantages of ECOPACK.
Robotics by PICVISA
Robotics by PICVISA provides intelligent and customized robotic solutions to face the new challenges of process automation. An intelligent robot is capable of facing a problem just as a person would: it sees, understands the situation, and acts accordingly. How do we achieve this capacity to adapt to changing contexts? With a recipe of few ingredients very well combined:
Machine Vision: through images the robot interprets a given situation
Artificial Intelligence: deep learning algorithms allow the robot to make decisions
The robotic unit implements the decision made
Currently in our product portfolio we offer customizable solutions to automate sorting tasks – identify and separate valuable materials within a disorderly production flow – and quality control – the robot identifies and separates improper in a production flow.
Our robotic solutions are adapted to multiple sectors – recycling, packaging, textile and food. To develop each application, different aspects are analyzed: geometry and surface characteristics of the parts, characteristics of the belt, field of vision, type, tolerance and design of the robot gripper.
From this analysis we manage to adapt our products to the needs of each client. Our technical team of engineers and experts in Artificial Intelligence will accompany you in the development, manufacture and implementation of our plug and play robotic solutions.
BRAIN by PICVISA
We know that no process, product or plant is the same, which is why we have developed our analysis and feasibility studies service. With this we managed to implement Artificial Intelligence and Machine Vision solutions in the industry: BRAIN. We analyze your process, your product, your flow and your objectives to produce a tailor-made study. In this way we assess the viability of your project. And we do so not only technically but also in terms of return on investment (ROI). 
BRAIN is the result of the knowledge and experience accumulated by PICVISA. In PICVISA we have been helping recycling plants to increase their productivity with Artificial Vision and Artificial Intelligence solutions for more than 20 years.
Our feasibility studies can help you transform your business. We operate in different industries: packaging, recycling, textile, food, automotive, or pharmaceutical.
CARE by PICVISA
We have decided to name our service and support department CARE. In PICVISA not only we will take care that your equipment works to the maximum performance with the last improvements and updates, also we take care and watch over the efficiency of our equipment because we want that them to bring you the highest profitability.
We design processes of continuous improvement, remote technical assistance and above all, we put at your disposal a team that speaks your language, that understands your needs and that will be available when you need it most.
Our idea with the CARE business line is to ensure that our solutions require the minimum maintenance intervention by your team. For us to take care is to be close and always available.