The award, which has achieved ISO 9001:2015 quality management certification, was founded in 1994 with the aim to promote companies' corporate responsibility and a culture of autonomy, popularise the success of committed company representatives and foster networking among medium-sized enterprises. Since its creation, municipalities and associations across the country have nominated 18,000 companies for the award. This year, 1,157 companies have been nominated in the state of Baden-Württemberg, and STADLER was one of six finalists.
STADLER was selected by the award's regional and final juries according to 5 criteria: its overall development, taking in consideration factors ranging from financials and awards won, to risk and quality management; job creation and apprenticeships offered; investment in modernisation and innovation; commitment to the community within the region; customer service and proximity, and marketing. Additional elements such as the company's philosophy and history were also considered.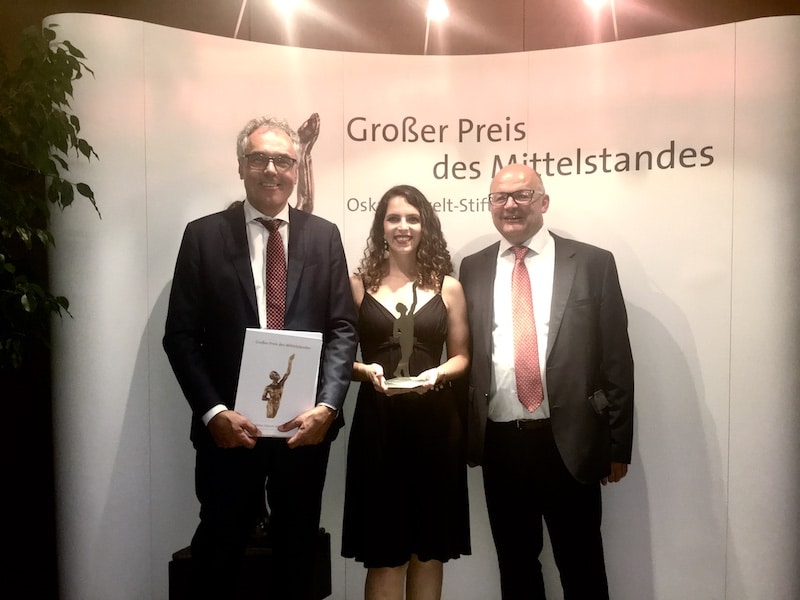 Mr. Willi Stadler, CEO of the STADLER Group received the award during the Gala-Dinner for the finalist companies of the state of Baden-Württemberg, which was held in the city of Würzburg on September 14th, 2019.
During the ceremony, Mr Stadler stated: "Parallel to the satisfaction of our clients and to the continuous innovation of our products, the appreciation of each and every collaborator and the commitment to the local region are very important for us. For that reason, we are incredibly happy that our company´s philosophy is honored by the jury today and we are receiving this important and unique German Award! Our sorting and recycling plants also make a valuable contribution to CO2savings: modern technology for a cleaner and better environment!"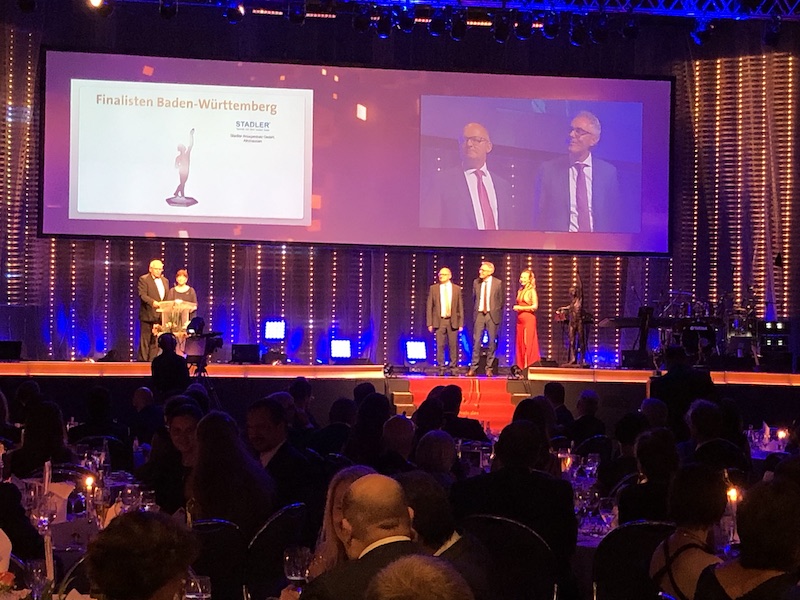 The award reflects STADLER's philosophy of intrinsic values and mutual appreciation that is the cornerstone of its success. This family-run company, whose origins date back to the 18thcentury, has operated since its very beginning according to its core values of honesty and trust.
Today STADLER specializes in the design, manufacturing and assembly of automated sorting systems and components for the recycling industry, combining the best "Made in Germany" quality with advanced engineering expertise to meet the specific requirements of its customers. The premium-quality performance of its ballistic separators, screening drums, conveyors and delabelersis a crucial factor in the efficiency of the sorting plants it supplies, and is recognized across the world. In particular, STADLER is the world leader in ballistic separation, and as such continues to pioneer this technology to meet the evolving demands of its customers and the requirements of the process. 
STADLER offers customers across the world a personalized full service, from design to installation and subsequent service and maintenance, through its sales and representative offices based in more than 20 countries and its two manufacturing plants in Altshausen, Germany and Krško, Slovenia.
About STADLER
STADLER is dedicated to the planning, production and assembly of sorting systems and components for the waste disposal and recycling industry world-wide. Its team of over 450 qualified employees offers a tailor-made full service, from conceptual design to planning, production, modernisation, optimisation, assembly, start-up, conversions, disassembly, maintenance and servicing of components to complete recycling and sorting systems. Its product range includes ballistic separators, transport conveyor belts, screening drums and delabelers. The company is also able to provide steel structures and electrical switch cabinets for the plants it installs. Founded in 1791, this family-run company's operation and strategy is underpinned by its ethos of delivering quality, reliability and customer satisfaction, being a good employer and providing strong social support.