Shredders You Can Trust
We have over fifty years experience in this field and currently manufacture a range of shredding machines which can be adapted to suit your specific needs. So, whether it's for a SME or a nationwide recycling organisation, we can design and deliver a shredder that's perfectly adapted to your working environment and capable of handling whatever you need to shred.
Ulster Shredders is changing how we destroy and dispose of goods, we now can shred hard drives down to 5mm.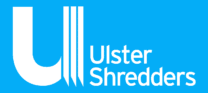 Company name:
Ulster Shredders
Phone number:
+44 (028) 7965 0050